Madame Tussauds Hit Back As Angry Fans Claim Beyoncé's New Waxwork Looks 'Lighter Than Britney Spears'
20 July 2017, 11:24 | Updated: 20 July 2017, 11:48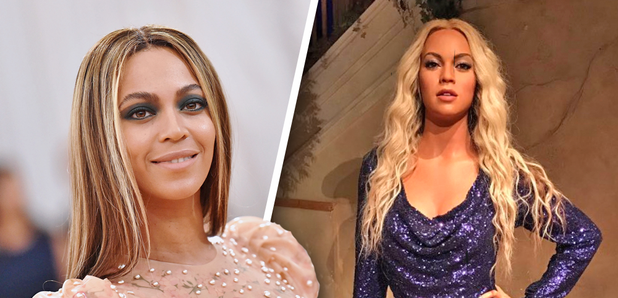 Some people even think it looks more like Lindsay Lohan than Queen Bey!
When it comes to waxworks of our favourite celebs, 9 times out of 10 we're genuinely impressed by how people can create something so lifelike! Sadly that's not the case for the latest Beyoncé figure.
Fans have reacted furiously online after one Twitter user posted a picture of the star's new wax figure from New York City's Madame Tussauds that sadly didn't look anything like Bey.
> Inside The Pop Waxwork Museum - 36 Amazing Replicas Of Your FAVE Stars
Many people accused the creators of white washing their fave singer and some of the reactions have been pretty savage. Take a look at the original tweet below which showcases the new wax figure in all its glory.
Beyonce' wax figure at @MadameTussauds is FIERCE! pic.twitter.com/7UDyi9VEWT

— Joe (@CCFan007) July 18, 2017
Not exactly the image we think of when we imagine Beyoncé right? Well most people felt is was a terrible misrepresentation of Queen Bey and here are some of the strongest reactions below...
I thought this was Lindsay Lohan at first glance.

— Janan Amirah (@jananamirah) July 18, 2017
Seriously thought that was supposed to be Shakira

— BCC (@ByCommonConsent) July 19, 2017
Shakira actually looks like Shakira. This? Idk what they were trying to do. pic.twitter.com/rsISc0dagR

— Janan Amirah (@jananamirah) July 19, 2017
Me still looking for the real Beyonce wax figure cause this ain't it. pic.twitter.com/1jrseGp81A

— Nicki (@nickiknowsnada) July 19, 2017
How can Madame Tussauds have a Beyoncé sculpture lighter than Britney Spears

— TZA (@Trizza_L) July 19, 2017
They really made Kylie's wax figure spot on and disrespected Beyonce like that pic.twitter.com/d4YBWWTiRK

— Charmaine Riley (@charmaineriley) July 19, 2017
THIS IS NOT BEYONCÉ THIS IS A POOR MAN's MARIAH CAREY WITH SOME LINDSAY LOHAN MIXED IN NO NO NO @MadameTussauds pic.twitter.com/3l5xes0gH0

— Elizabeth Kiefer (@lizabeth_kiefer) July 19, 2017
Someone even started the hashtag #TussaudsSoWhite clearly inspired by the #OscarsSoWhite campaign...
Yo dead assThis is Becky with the good hair.... Not Beyonce #TussaudsSoWhite pic.twitter.com/lA2e6GKz1u

— Jchien (@icebergjchien) July 19, 2017
After so many negative comments emerged online, Madame Tussauds decided to release an official statement defending the waxwork and claiming that Beyoncé's lightness was down to flash photography.
The statement reads, "At Madame Tussauds, our talented team of sculptors take every effort to ensure we accurately colour match all of our wax figures to the celebrity being depicted."
"Lighting within the attraction combined with flash photography may distort and misrepresent the colour of our wax figures which is something our sculptors are unable to account for at the production stage."
But as we know this isn't the first Beyoncé waxwork to come in for criticism and one person even put forward a theoiry that no waxwork designers have ever seen a picture of Bey before!
Theory: Beyoncé wax figure makers have never seen Beyoncé pic.twitter.com/bZ2PWCUzUs

— Michelle Lee (@heymichellelee) July 19, 2017
What do you make of the new design then? Are you Drunk In Love with it or was someone drunk when they made it?
Whilst you're here, let's take a trip down memory lane and take a look at Beyoncé's inspiration for her famous 'Crazy In Love' dance routine...