Fans Are Convinced Beyoncé Has Already Given Birth & Here's The Suspicious Evidence To Back Up Their Theory
13 June 2017, 16:32 | Updated: 15 June 2017, 16:12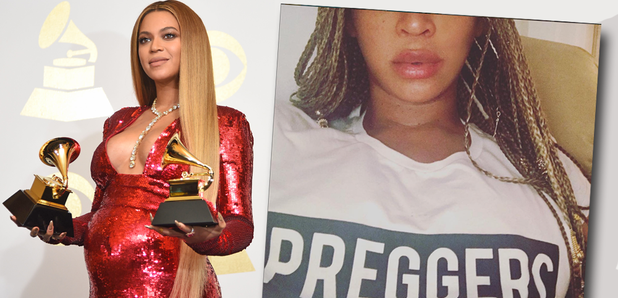 Does all this make you believe Bey has given birth already?
When Beyoncé announced that she was pregnant with twins, it seemed like the whole world stopped and wished her all the best for a second. Not only was everyone happy for her and husband Jay Z, but they also loved the way in which the pair decided to make the announcement.
Remember THAT Instagram picture?
WATCH: "I've Made Mistakes" - Katy Perry Opens Up And Apologises For Cultural Appropriation Live
Well the love for Queen B and her unborn twins has been continuing through the whole pregnancy and now, as Bey's due date is surely almost upon us, some fans have decided that she has already given birth.
Let's have a gander at all their evidence...
It all began with this 'Memorial Day' photo that Bey posted on Instagram...
The pic was posted back on 30th May and fans claimed that Bey's stomach actually looks smaller than it did in pics that she had posted shortly before this one, making them believe that this was a 'filler' pic for her Gram to throw people off the scent and not actually a recent one.
Here's one Beyoncé posted just over a week before. Does her bump look bigger here? Is it all just angles?
Fans also claimed that Bey's hair in the Memorial Day picture was more like a style she had had earlier in the month, proving that the picture had actually been taken a while ago.
A few days before the Memorial Day picture was taken, Beyoncé's sister Solange actually cancelled a schedulled appearance at a music festival and cited 'production drama' as the reason for the last minute drop out...
I'm really really sorry/sad about this but I fought hard to only give u my best, & tons of production drama/delays got all up in the way:( https://t.co/sy8rFQ9kCq

— solange knowles (@solangeknowles) May 25, 2017
That convinced fans that she was travelling to be with her sister during the birth of her twins! But what if it was just production delays?
The last piece of evidence which seems to have convinced most people is the fact that Tina Knowles (Bey's mum) was spotted in a hospital waiting room.
THIS IS NOT A DRILL! TINA KNOWLES WAS SEEN AT A HOSPITAL IN LA!!! #BeyHive pic.twitter.com/CPhbAOTlzV

— Kalen Allen (@TheKalenAllen) May 21, 2017
Could this be an old picture or maybe even photoshopped to back up the theory? Perhaps it is genuine and Bey has already given birth? We just don't know anything any more.
There is always theories floating around relating to different things to do with Beyoncé, but given the evidence fans have provided for this latest one, we guess there's a strong chance it could be true.
Beyoncé will surely tell the world about her birth when she'd good and ready, so until then all we have is speculation.
In the meantime, let's remind ourselves of the time Bey used Bob Fosse's 'Mexican Breakfast' dance as inspiration for her 'Single Ladies' dance...