Let's Go To The Beach! 15 Music Videos To Get You In The Mood For A Holiday
24 July 2015, 06:00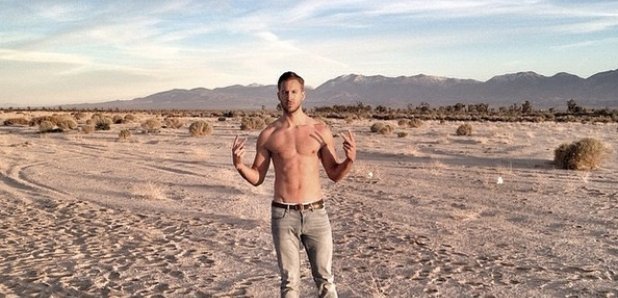 Summer's (sorta) here, so whether you're jetting off to far-away climes or having a cheeky staycation, here are 15 anthems guaranteed to give you beach vibes!
The sun's shining and the temperature's rising, so for the next 20 minutes we're declaring it "summer"!
We've trawled the archives for the best music videos which will have you running down to that beach before you can say "factor thirty".
Hopefully the sun will be shining long enough to make it to the end of this playlist - but these tunes are so hot the party would STILL be going indoors!
Nicki Minaj – 'Starships'
You know when a song's opening line is "Let's go to the beach, each" it's going to be a summer anthem! This Nicki classic from 2012 will have you straight in that ice cold water - the video can even teach you how to exit the sea looking all seductive.
David Guetta & Usher – 'Without You'
It's the tune that's had you jumping on the dancefloor for years, but leaves you longing to be on the beach in Rio with Usher himself.
Calvin Harris – 'Summer'
Okay, so he's not *technically* on a beach, but Cal's definitely looking hot surrounded by sand. Plus the song's called 'Summer', so it's giving off the right vibes.
Cheryl – 'I Don't Care'
Not only is this an anthem for getting over your ex, it's also the video that makes you insanely jealous of Mrs F-V's epic holidays. Now where did we park the yacht?
> 13 Songs Guaranteed To Get You Over Your Ex
Flo Rida & Sia – 'Wild Ones'
We're not suggesting that you go skydiving to kick off your holiday, but Flo's holidays do look pretty extreme - we're DEFINITELY taking inspiration from this video for our next getaway.
OMI – 'Cheerleader'
You've been jamming to this tune all summer, no doubt in the sun too, so get it on repeat and slap on some factor 50.
Katy Perry – 'Teenage Dream'
Another gem from Ms Perry's back catalogue - just hit play on the video and you'll be booking a convertible and driving along those coastal roads in no time.
Chris Brown X Deorro – 'Five More Hours'
Not everything goes to plan on a summer holiday, whether it's lost baggage, bubble guts (eurgh) or in Chris Brown's case - car trouble. But fear not! No matter what tries to ruin your summer, this video is definitive proof that all your holiday woes can be solved with a bus-load of hot women.
Jennifer Lopez & Lil' Wayne – 'I'm Into You'
Who says fun in the sand has to be confined to the daytime? J-Lo proves that you can have a great time on the beach night AND day! Just be careful where the sand ends up!
DJ Fresh – 'Louder'
So we might have as much grace as a giraffe when it comes to rollerskating, but the ladies in this classic DJ Fresh video have got the right idea! Whether you're on the beachfront in Miami or Morecambe, with this blasting in your ears you'll be having the hottest summer ever!
David Guetta & Kelly Rowland – 'When Love Takes Over'
This former Big Top 40 number 1 from our favourite French DJ always has us in the mood for a holiday all year round. Crank it up and you'll be in search for those nighttime beach raves in no time.
One Direction – 'What Makes You Beautiful'
While the boys might be partying on yachts and enjoying their millionaire lifestyle in 2015, back when they dropped their debut single in 2011 life was much more simple (and budget friendly!) - all they needed was a camper van and a quaint English beach. Oh, and some red jeans for Louis.
DJ Jazzy Jeff & The Fresh Prince – 'Summertime'
Surely this is the ULTIMATE summer tune? Even 18 years after it was released (yes, if this track can now legally buy a drink in clubs!) it's still sounding as fresh as ever and transports you straight to a Miami beach.
Kesha – 'Your Love Is My Drug'
Who says you've got to be near the sea to enjoy the sand? Back when she still had a dollar sign in her name and was a bit more crazy, Kesha showed us just how to party in the middle of nowhere.
LMFAO – 'Sexy & I Know It'
How could we NOT include this? Whether you're smuggling budgies, or you're with someone rocking a mankini, you can't help but get thrusting inappropriately whenever this legendary LMFAO track comes on. "Wiggle, wiggle, wiggle, wiggle, wiggle, wiggle, yeah