Strictly Come Dancing 2018 Line-Up: Who Are The Celebrities Appearing On The Show?
15 August 2018, 13:53 | Updated: 21 August 2018, 15:38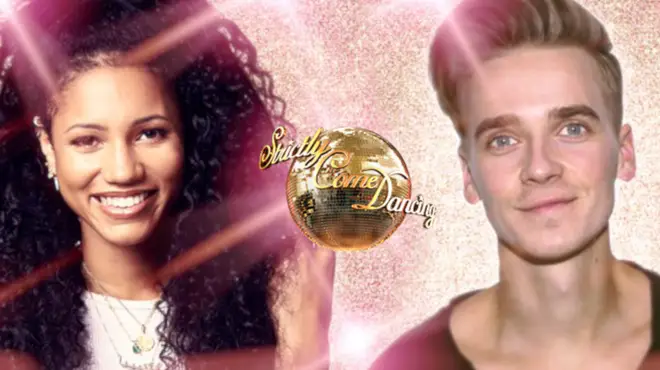 We know you're going to be glued to this year's Strictly Come Dancing, but how well do you know the celebrities of 2018? We've delved in to see who's who.
Strictly Come Dancing always promises big names with their line up and 2018 is no different, with the likes of Joe Sugg and our very own Vick Hope taking to the iconic dance-floor.
But who's who on the roster? We've got all of the information here...
Vick Hope

Our very own Vick Hope is taking all of the moves she's learned from dancing at the #CapitalSTB all the way to Strictly.

"I'm so nervous about doing something outside of my comfort zone in front of so many people on live TV, which I could easily screw up," said Vick.

She's actually having nightmares about it, so be kind to her when it comes to voting. Not that we're biased at all...

Joe Sugg

For the meantime, Joe Sugg - or as his 8.2 million subscribers may know him as, ThatcherJoe - is pausing his uploads to join the Strictly Come Dancing line-up.

But what's the one aspect of the show that's got Joe most nervous? Is it meeting the judges? Is it learning the routines?

Nope. He's worried about the glittery make-over; "I do feel pretty nervous about it. I just hope they have child sizes as I'm tiny!"

I'm Going On Strictly Come Dancing

Faye Tozer

She's won a BRIT Award, but can the Steps singer walk away with the Strictly Come Dancing trophy too?

We don't expect nerves to be a big issue for Faye, after she's toured the country and sold over 20,000,000 records.

Faye is buzzing to get in the Strictly costumes though, saying "The swishy skirts and fabulous fringing encrusted with crystals... It's a big yes from me!"

Danny John-Jules

You may recognise actor, Danny John-Jules, from all of the repeat-after-repeat showings of Red Dwarf, but what you may not know is that he's also a keen dancer.

Before his role as Cat in sci-fi sitcom, Red Dwarf, Danny was a dancer in a lot of Westend performances, including Starlight Express and - ironically - Cats.

Katie Piper

Named as the first contestant on Strictly Come Dancing, you may recognise Katie Piper for her charity work; having founded The Katie Piper Foundation in 2009.

Katie's also a super fan of the dancing reality show, saying "I feel so privileged and excited to be part of my favourite show on TV,

"I already know how much of an amazing experience it will be for me and I can't wait to show my girls some of my new dance moves!" continued the personality.

Dr Ranj Singh

If you've ever watched This Morning you'll recognise Dr Ranj as the show's resident doctor. He was announced on the ITV show as the seventh contestant for Strictly after Ruth Langsford teased a member of the programme was going to be taking to the dancefloor.

After it was announced Ranj was going to be on the show he said, "I'm so sore at the moment, I've been going to the gym to try and get fitter and everything hurts."

Stacey Dooley

Strictly announced Stacey as their eighth contestant to take to the floor as she was announced exclusively online.

The TV journalist popped was confirmed on the show's official Instagram Story. Stacey then tweeted, "It's happening! I'm taking part in SCD this year and my mother is going to explode!"

"2018 has already been such an incredible year for me. I've done some amazing things and I'm excited to add 'becoming a dancing genius' to the list. Typically, work for me is very serious and can be quite hard core so I'm going to soak up the escapism and bathe in sequins. See you on the dance floor!"

Ashley Roberts

Ashley was revealed as the ninth hopeful taking to the Strictly dance floor. Speaking about why she decided to sign up to the show, she revealed her celebrity pals have all raved about their time previously.

"Daisy Lowe loved it, Caroline Flack said it was one of her favourite projects, Pixie Lott and Laura Whitmore loved it, so I'm excited to dive into my own experience!

The ex Pussycat Dolls star also tweeted her excitement after being announced. "So the pussycat's out the bag!! Ahhh, so beyond excited for this adventure!!! Can't wait!"

Graeme Swann

Former England cricket bowler Grame Swann was the sixth contestant announced for Strictly. After being asked what his biggest fear is he said, "I've never been taught to dance I don't know anything, so you work for two weeks, but if I get this wrong, it will be the end of the world"

Swann also revealed he had kept it secret from his cricket pals but as a result of their previous discussions, he was persuaded to take part in the show.