Netflix's Sex Education: How Old Are The Cast Of The Original Series?
15 January 2019, 14:31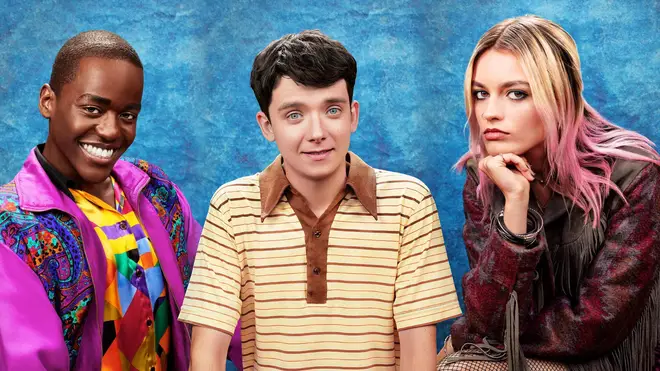 If you've watched Netflix's new comedy, Sex Education, and wondered how old the likes of Asa Butterfield and Emma Mackey, then you've come to the right place.
With the first series of Sex Education coming to Netflix, and the likes of Gillian Anderson and Ncuti Gatwa stealing the show, it comes as no surprise that we wanted to know how old everyone was.
Set in a British high-school, Sex Education sees Asa Butterfield's Otis live as a sex therapist for his pals at school.
> Why Does The British Comedy, Sex Education, Feel So American?
Here's how old the cast of Sex Education are...
Asa Butterfield

Asa has previously starred in huge Hollywood movies such as The Boy in Striped Pyjamas and Ender's Game.

He has been a prolific actor since 2006, and is currently only 21-years old.

Emma Mackey

Having only recently got into acting; making her debut in 2016's television movie Badger_Lane, Emma is relatively new to the limelight.

Emma Mackey, who plays Maeve Wiley in Sex Education, is 21-years old.

Ncuti Gatwa

The Scottish actor and model - who is known for his role as Eric in Sex Education - is older than most of his co-stars.

He was born in 1992, and is currently 26-years old.

Aimee Lou Wood

Aimee Lou Wood celebrates her birthday on 2 November, and she is 23-years old.

Kedar Williams-Stirling

Before Sex Education, Kedar Williams-Stirling's most notable role was in the TV series Wolfblood, which aired between 2012 - 2017.

He is 24-years old.

Connor Swindells

Born in 1997, Connor is younger than some of his Sex Education co-stars. He is 22-years old.

Tanya Reynolds

Tanya - who plays Lily Iglehart in the Netflix series - is older than most of her co-stars. She is 27-years old and was born on 4 November 1991.