Courtney Act Reveals How Important Straight Allies Like Jade Thirlwall Are To The LGBT Community
16 October 2018, 09:00 | Updated: 16 October 2018, 09:01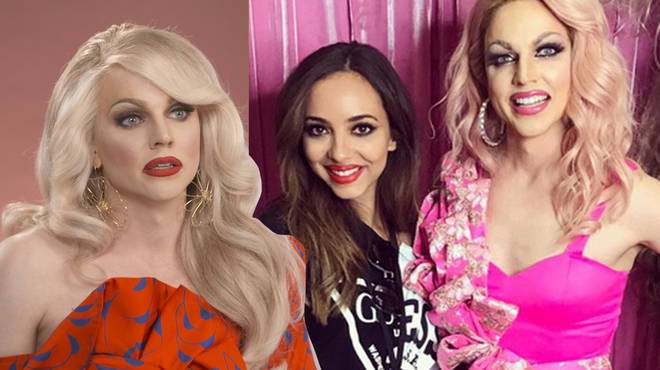 Courtney revealed all on her new show, The Bi Life, and her friendship with the Little Mix star.
Courtney Act is back with her very own dating show, The Bi Life, so we had to sit down with her and talk about the show, as well as her friendship with one of our fave ladies, Jade Thirlwall from Little Mix.
WATCH: Little Mix Predict That Leigh-Anne Is The First Of The Girls To Be Married
Courtney revealed why she thinks Jade's support for the LGBT community is so important, after the Little Mix star has been famously outspoken when people have made ill-informed comments on her social media.
She revealed, "Allies are so important because the queer community can take its journey so far but really that acceptance and incorporation into mainstream society, you need straight people who are allies and who understand.
"A lot of people go to pride and pride events in summer and are like 'yeah woo, put some rainbow on' but Pride isn't one day of the year, it's a 365-day event. If you're going to pride it's incumbent on you to speak up when someone says something even in a private space but certainly in a public space if someone is bullied or needs help, it's important, it means not just a party it means standing up and speaking out if you're an ally in those situations.
"Jade is [a great ally] and she's such a sweety, she just genuinely loves it. I was at DragCon in LA, a huge convention of 40,000 people meeting drag queens and I looked over and Jade's standing in the line for the meet and greet and I'm like 'can somebody please get Jade out of the line and tell her that she can come to the front?'
"Bless her, she just lined up all day meeting drag queens and saying hello and she is a superfan which is sweet."
Courtney's new show is filmed in Barcelona and features bisexual contestants on the lookout for love - and we're already ready to fill that Love Island shaped hole in our lives.
The Bi Life premieres on Thursday October 25th at 9pm on E! UK & Ireland.
> We're Catching Up With All Of The Biggest Stars Over On Our App!