CBB Were Forced To Check Andrew Was OK Following Shane 'Incident'
15 January 2018, 16:20
Opinions were split about Shane's actions.
During a recent episode of Celebrity Big Brother, Shane was asked by BB to stop putting pillows on Andrew during a playfight between the pair. Just prior to that though, Shane had pulled down Andrews trousers and attempted to pull his boxer shorts off too.
As you can see from the video above, the pair are laughing all the way through and Big Brother appeared to take Shane's actions with a pinch of salt, calling him out for the pillows and not the de-pantsing.
> Celebrity Big Brother's Jess Impiazzi Revealed That She's Secretly Married To An England Sports Star
But the viewing public have been split on the whole situation with many people calling for Shane to be removed, believing his actions were wholly inappropriate. It has also been revealed that producers decided to speak with Andrew off-camera to ensure he was ok.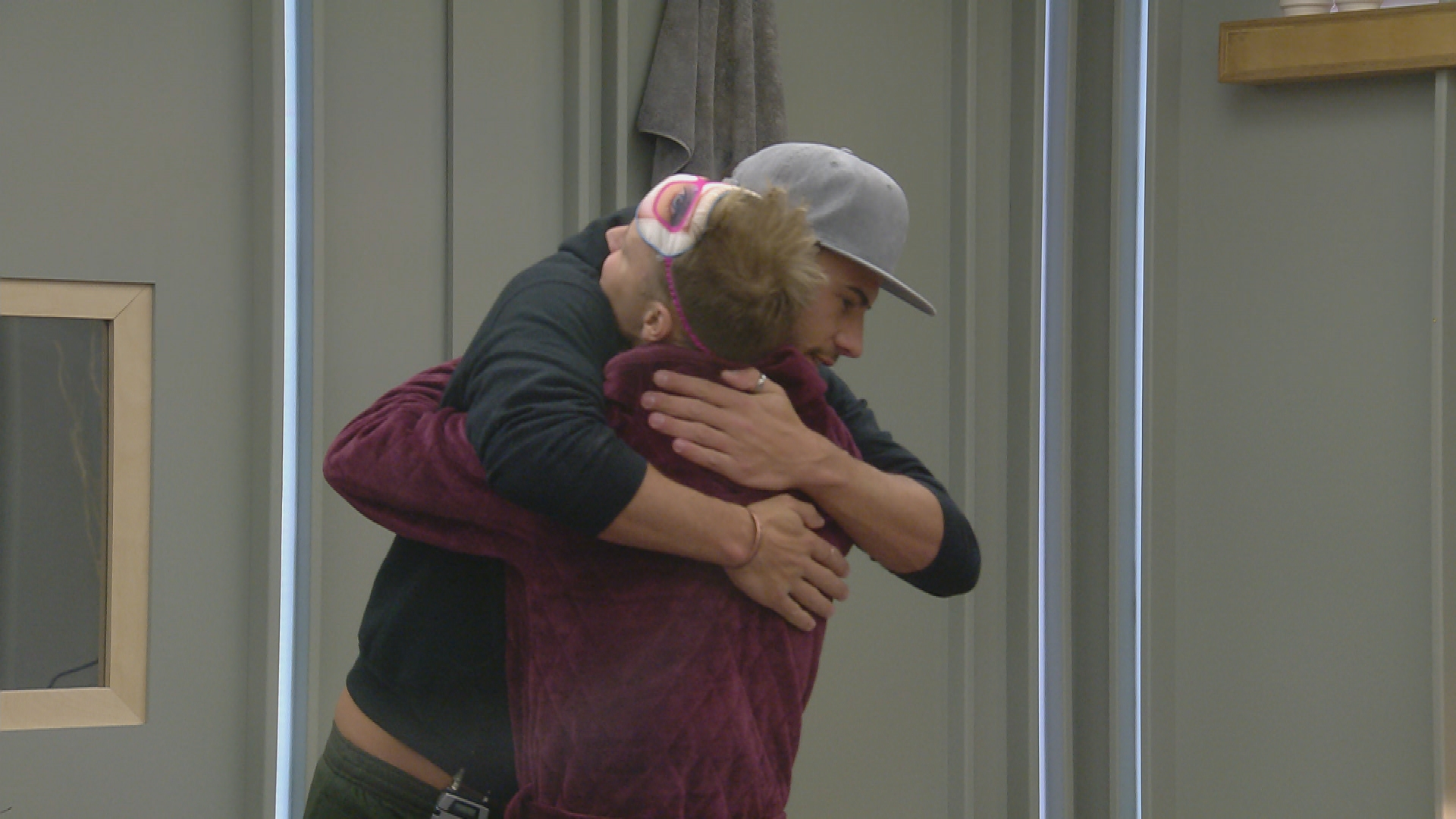 (Pic: Channel 5)
Speaking to Huff Post UK, a CBB spokesperson confirmed that 'Courtney did not receive a warning over the incident, though Andrew was spoken to privately by producers to ensure he wasn't perturbed.'
The pair have been getting on extremely well during the series and have built a strong bond during their time in the house, with many people claiming that this 'incident' was a bit of innocent fun.
But the whole thing created the biggest divide on Twitter where people were truly split over whether they thought Shane's actions were a bit of fun or inappropriate...
The majority of my closest mates are straight lads, I see absolutely nothing in this Shane and Andrew thing but mates messing around. #cbb

— Mattie Stretton (@anglaisdisaster) January 15, 2018
Oh for gods sake, people getting on their high horses about assault on #cbb. @courtneyact and Andrew were messing about! If Andrew had said stop or had shown any sort of distress or discomfort then fair enough, but he was laughing and engaging with Shane. Chill people!

— Steph Smith (@steph_smith85) January 15, 2018
Did anybody else find the whole Shane J pulling down Andrew's shorts thing rather awkward. The bf and I were just sitting there saying, "NO Shane - don't ruin it!" #CBB

— D.DRKO (@D_D_A_R_K_O) January 15, 2018
#CBB I do think that even though Andrew didn't appear to be offended it was so wrong of Shane to do that. So out of order

— Rose (@Rosie12_1994) January 15, 2018
Adore Shane and Andrew but wasn't Denise Welsh warned when she did the same things to those twins in 2012? just sayin' #shandrew #CBB pic.twitter.com/MCBz1B2u66

— Julie Burns (@julieburns1) January 14, 2018
Seeing as Andrew and Shane have insisted that they are just 'friends' and Shane knows that 'consent is sexy'...What he just did there with Andrew was very uncomfortable to watch. #CBB

— Lyoness (@BiggyIsCrazy) January 15, 2018
If #cbbandrew had a problem with #cbbshanej pulling his pants down he would've said or walked away but he didn't. He continued to pick Shane up and joke around. Stop being pressed! #cbbuk #CBB

— bennnnn (@benchidley_yt) January 15, 2018
It will be intriguing to see if Shane J gets done for pulling Andrew's underpants down, because Denise Walsh got a bollocking for pulling one of the twins pants down
and somebody else actually got kicked out for doing something similar#cbb #cbbbots

— Vladimir Raul (@EmperorMendoza) January 14, 2018
Shane J pulling down Andrew's pants, and Andrew then carrying him and throwing him onto the sofa. If that isn't flirting, then I don't know what is... #CBB #CBBShaneJ #CBBAndrew

— Darren (@TVAddictDarren) January 14, 2018
But yeah everyone freaking out over Shane pulling Andrew's trousers down for a laugh, calm your farm... #CBBUK #CBB #CBBShaneJ @courtneyact pic.twitter.com/6PUeh4uOOu

— Julie (@JClellandx) January 14, 2018
As Big Brother confirmed that Shane has not received a warning for his behaviour and Andrew reportedly isn't upset about it, it seems that no further action will be taken, but where do you stand on the whole thing?
> Download Our Fancy New App For All The Latest Celebrity Big Brother News!
Whilst you're here, check out former housemate India's reaction to Andrew dressing up in drag...