CBB Viewers Demand India Is Evicted For Faking Her 'Drag Phobia' As Shock New Pictures Are Revealed
9 January 2018, 11:53 | Updated: 9 January 2018, 11:56
Well we didn't see this coming!
This series of Celebrity Big Brother has been a fairly lively one so far. From the all-female beginning to the newly introduced guys 'giving birth', we've already had so many great moments.
But for housemate India Willoughby, this series has been a bit of a rollercoaster. She's clashed with housemates about various topics and has been misgendered on several occasions by Amanda Barrie, but her phobia of drag queens has been one of the biggest talking points.
> We've Finally Worked Out How Malika Knew About Khloe Kardashian's Tweets & It's Actually So Obvious

India has had several discussions about gender and drag artists with Shane Jenek aka Courtney Act, expressing that she has a phobia of drag acts. Check out the video above to see India's reaction to Andrew's transformation into a drag queen recently.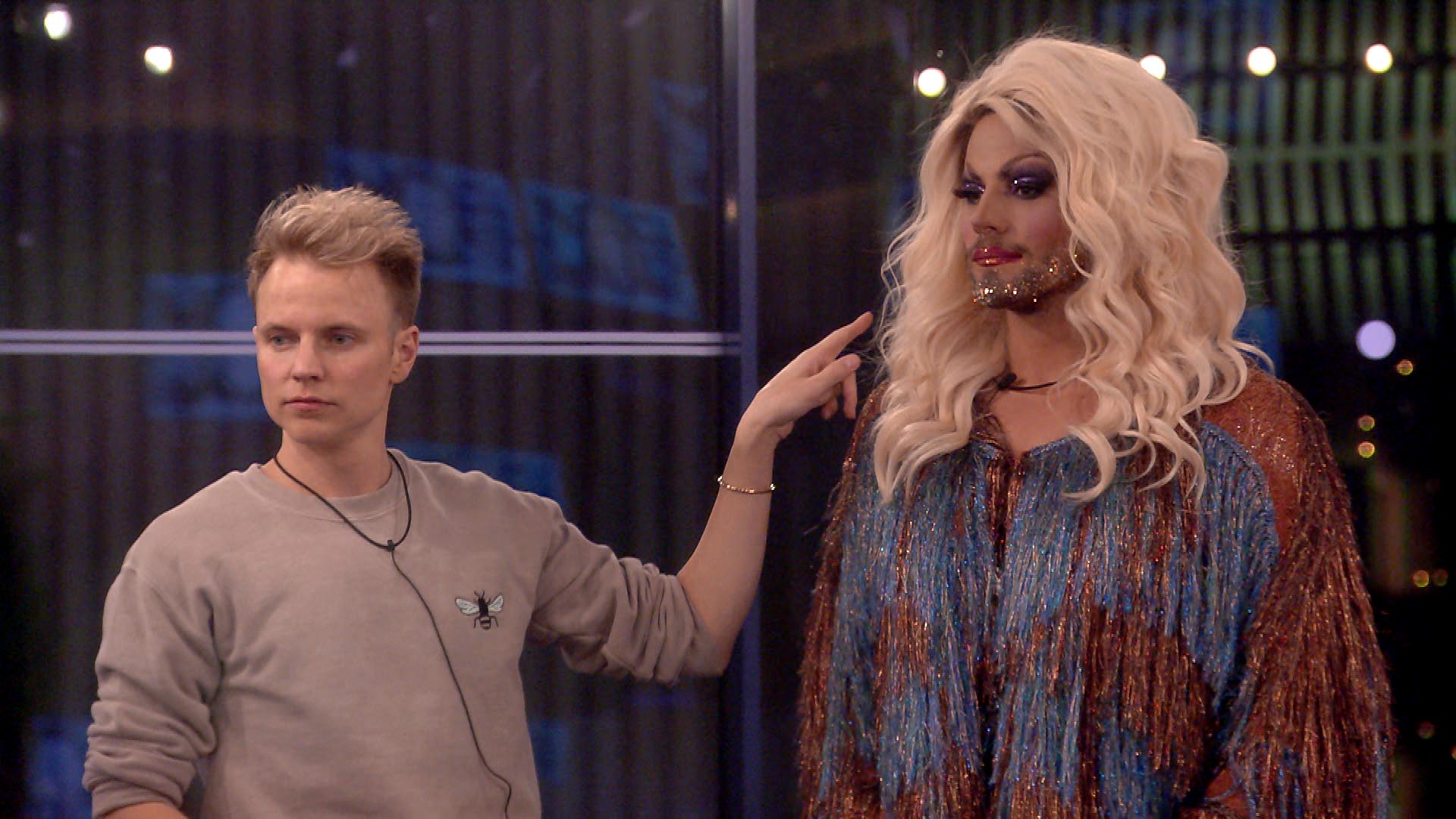 (Pic: Channel 5)
The most shocking part of this whole thing isn't that India claims to have a drag phobia, but that tweets have now emerged exposing pics of the newsreader posing with a number of drag artists, seemingly having a good time and not being scared at all.
Conchita - what are you doing here? The fab ladies of @hausofdench @Pride_Diversity pic.twitter.com/IBldb7TPI7

— India Willoughby (@IndiaWilloughby) May 20, 2017
Harrogate Pride - fabulous! Fun day @Pride_Diversity - great atmopsphere!!! @ hausofdench pic.twitter.com/pJ5gJiUXSK

— India Willoughby (@IndiaWilloughby) May 20, 2017
In fact, one of the drag artists who India met previously took to Twitter to reveal that India was chatty and seemed eager to take pics...
I mean...India seemed fine with me when I said I was a drag queen... #cbb #cbbuk https://t.co/yynWGYubAN

— Crudi Dench the Scary Drag Queen (@stallstweets) January 4, 2018
She was really lovely! She was chatty and wanted photos so we obliged!

— Crudi Dench the Scary Drag Queen (@stallstweets) January 8, 2018
After the pictures and stories appearing to contradict India's claims emerged, fans were pretty furious and took to Twitter to demand that the star was evicted during the first public vote...
ew she's fucking fake af! what a disgrace, get india tf out #cbb https://t.co/YYS4kJMi6Y

— liz (@dreamdazedliz) January 9, 2018
Oh India drama queen with her fake phobia. She can pack her bags and take Ann with her. #cbb #CBBUK https://t.co/oFpC45ydC1

— Alotta Babble (@Alotta_babble) January 9, 2018
I think India has more issues than she realises, if a drag queen sends her off to bed! I was rooting for her but now I want her EVICTED! #CBB #CBBIndia pic.twitter.com/vFtkJXPAnS

— Darren Lennon (@darren_lennon) January 8, 2018
BB need to do a task where they can show the house the tweets of India at a Pride event with drag queens +not traumatised #CBB #india #fake pic.twitter.com/BqRXJQbw1F

— Julie Burns (@julieburns1) January 8, 2018
With the first opportunity for viewers to evict a housemate just around the corner, let's see whether this new revelation will affect India's popularity with the public.

> Download Our Fancy New App For All The Latest Celebrity Big Brother News!
Whilst you're here, check out this 'Dancing On Ice' fall that you totally missed on the opening episode...