The 9 Best Frozen 'Let It Go' Covers
19 March 2015, 10:33 | Updated: 4 December 2017, 11:10
Disney's Frozen "Let It Go" Sequence Performed by Idina Menzel
03:39
Idina Menzel's 'Let It Go' from Frozen was one of the biggest surprise hits of the past few years - so it's no surprise that YouTube is full of magical and hilarious covers!
With over hundreds of millions of combined views, these 9 covers and parodies have proven to be insanely popular. We're counting down the best adaptations of the hit, from comedy versions to A-list celebrity covers.
Duelling piano siblings perform their Frozen mash-up - and play it backwards too!
In March 2015 this brother and sister duo impressed us ALL with their mash-up of songs from the hit Disney musical, including one segment that totally blew our minds when they played some of the songs while sitting backwards at the piano. SO, SO GOOD!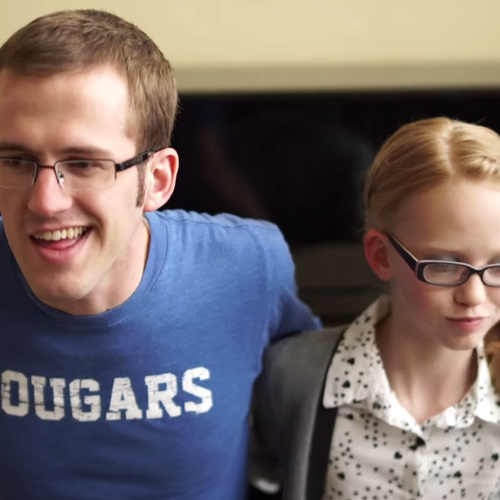 Dad & daughter's epic lip-sync
We all love a good car karaoke session, but 3 year-old Blakely and her dad Billy have put ours to shame! Their amazing version of the Frozen track has so far ben viewed over 12.5 million times (and is insanely cute!)
Demi Lovato jumps on board
We really can't decide which "official" version of the song we prefer, Idinia's classic, or Demi's more pop-tastic version...
Drake embraces his inner Filipino (kinda)
Not content with just hosting the 2014 ESPY awards, Drake took on the alter ego of world champion boxer Manny Pacquiao to deliver an 'interesting' take on the Disney hit...
When Frozen meets Bridesmaids...
It's a well-known fact that Bridesmaids is one of the best movies of all time, so when we saw that Ellen Degeneres had roped lead actress Kristen Wiig in to covering 'Let It Go', we were very excited!
Don't forget the rest of the Disney universe!
Why should Elsa be the only person to get to sing 'Let It Go'? YouTuber Brian Hull must have thought the same question - so he decided to perform the track using a plethora or Disney and Pixar voices - amazing!
The cutest duet EVER!
Okay, so Maddie & Zoe might not be the best singers ever, but they get top marks for cuteness! Their incredible take on the Disney tune has been viewed almost 30 million times!
Even Jimmy Fallon has jumped on board!
You know you've made it in pop culture when the biggest US talk show hosts parody your song! That must be how Idina Menzel felt when she appeared on The Tonight Show with Jimmy Fallon.
And you can't forget the 'Frozen Father' parody
Pretty much every dad of a child under 10 has no doubt heard 'Let It Go' about 4.6 million times, so it's understandable that this father put his own spin on the song... Poor guy!
You may also like...