BRIT Awards 2014 Performances – Watch The Full Videos
20 February 2014, 09:41 | Updated: 30 March 2016, 13:50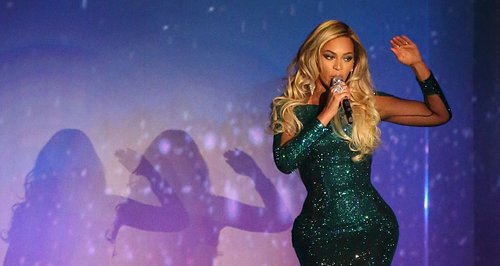 Check out Katy Perry, Beyonce, Bruno Mars, Ellie Goulding and more at last night's event.
The biggest night in music took place last night at London's O2 Arena as we celebrated the BRIT Awards 2014.
As well as a host of top prizes being handed out, there were some incredible live performances.
From Arctic Monkeys opening the show to a memorable closing set from Pharrell and Nile Rodgers.
This year's show had it all and you can check out every performance below…
Arctic Monkeys – 'R U Mine'
The Sheffield four-piece swaggered onto stage to deliver that flavour of rock 'n' roll that Alex Turner was talking so much about in the Album Of The Year speech. Also, keep an eye out for the huge 'AM' fire ball. Keep the hairspray away though yeh!
Katy Perry – 'Dark Horse'
It was a taste of what to expect in the official video for the track as Katy lit up the stage with some funky neon-aztec moves.
Bruno Mars – 'Treasure'
Can Bruno get any cooler? Seriously? After a record breaking Super Bowl he was back moving and shaking to his smash hit. Also, there is no better backing band out there…NONE!
Beyonce – 'XO'
It was the worst kept secret of the BRITs, but that didn't matter. It was a world first as well as Queen Bey performed the song for the first time. Those who got tickets to see her on tour this month will not be left disappointed.
Lorde, Disclosure & AlunaGeorge – 'Royals/White Noise'
As far as collaborations go this was smart, stylish and a great chance for two rising talents to show off what they could go. Expect many a BRITs performance from these artists for years to come.
Ellie Goulding – 'I Need Your Love/Burn'
Hitting the stage with an acoustic guitar, white hood with a lovely chap on the piano – things started subtly but soon descended into a crescendo of fire and drums. Bravo Ms. Goulding, bravo.
Bastille & Rudimental – 'Pompeii/Waiting All Night'
It was a big time for celebration during this performance. Both acts had picked up BRIT Awards and they perfectly matched their huge tracks together and got arguably the biggest cheer of the night.
Pharrell & Nile Rodgers – 'Get Lucky/Good Times/Happy'
Is there any better way to end the night? Pharrell and Nile are just the epitome of cool and showcased their immense professionalism and got the O2 on their feet. It was funky, it was fresh – it was just fantastic! P.s – the hat came back out, result!