Taylor Swift Chips Tooth On Stage During 'Red' World Tour: "I Punched Myself" - Video
2 August 2013, 07:58 | Updated: 2 August 2013, 08:00
The '22' singer explains how an incident with her microphone left her missing some of her tooth.
Taylor Swift has revealed that she chipped her tooth on stage during a gig for her 'Red' world tour this week.
The 'I Knew You Were Trouble' singer was performing in Pittsburgh when the incident took place.
Speaking to Rolling Stone magazine backstage on the next night of the tour, the star revealed how she basically punched herself in the face.
"Tonight I was particularly hung up on not chipping another tooth like last show in Pittsburgh, definitely," she explained: "It had a tip on [the tooth] and it doesn't anymore.
"I try to be really quick with the microphone, so I'm not standing there just waiting to sing with my mic right next to my face, so I really quickly pulled my mic up to sing and basically uppercut punched myself in the tooth."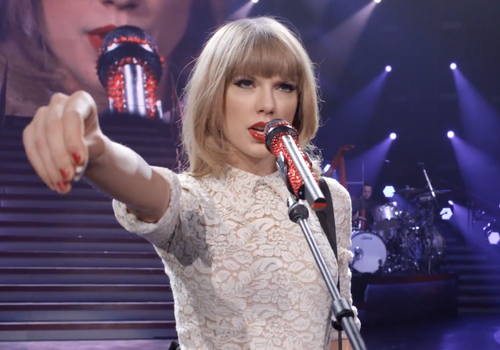 The country star admitted she saw the tooth fall on to the stage and wondered what the extent of the injury was.
"I'm not doing anything about it. It's just gonna be a little bit jagged, I guess," she admitted.
The 'We Are Never Ever Getting Back Together' star also revealed how she has to ensure she's reading fan signs at the right point of her show.
"Sometimes I get really caught up in reading the signs, and if I get too caught up I will start to read the signs when I'm singing, so I have to make sure I'm only reading signs in musical breaks," she said.
Speaking about some of her favourites, she added: "There will be people who just make a giant, huge picture of my cat's face, so big that it's all I can see, and that usually gets my attention. My cat out there, giant photocopy of her, eight foot by eight foot."
Check out a fan captured video of the incident where Taylor is said to have chipped her tooth below: (Scroll to 3:54)
Meanwhile, Taylor was recently joined on stage during one of her shows by Carly Simon for a duet of the song 'You're So Vain'.
She has also been seen relaxing near her home in Rhode Island paddleboading with pop pal Ed Sheeran.