Here's What Taylor & Calvin Collab COULD Sound Like... It's 'Summer' Vs. 'Bad Blood'!
30 July 2015, 08:24 | Updated: 30 July 2015, 13:25
Check out our AMAZING mash-up of 'Bad Summer' - a preview of what this super-couple could come up with.
We love Taylor Swift's music and we're big fans of Calvin Harris' work too, so the prospect that they may be working on something TOGETHER is ridiculously exciting – and it might be in the pipeline pretty soon.
In addition to this exciting #Talvin news, Capital's Dave Berry and Lisa Snowdon have got creative and mixed together just WHAT a Taylor Swift and Calvin Harris song might sound like… hit play on the clip above to hear our mash-up!
According to a Daily Star source, the pair have been thinking about a potential collaboration ever since they got together. "Taylor and Calvin have been speaking about collaborating since they started dating.
"They've had a couple of sessions jamming in the studio and are working with producer Detail. He was behind a string of Jay-Z and Beyonce tracks including 'Drunk In Love'."
And it looks like we could be hearing their duet a lot sooner that we thought – the pair are thought to be readying it to premiere late this years.
The source added, "Taylor has already been in LA laying down vocals for one of the tracks which could be premiered at the American Music Awards later this year.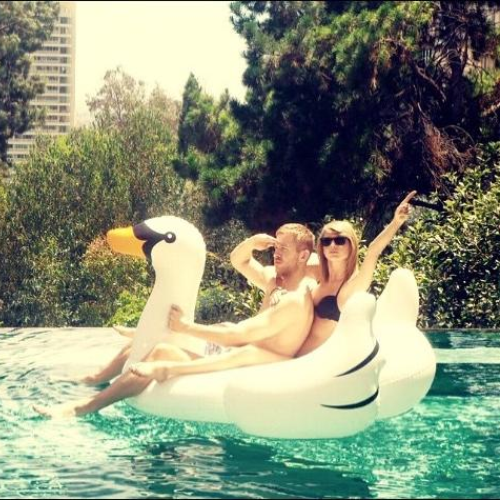 "Musically, Calvin and Taylor are from different worlds - but they are determined to bring their styles together."
Fingers crossed this collaboration doesn't cause as much bad blood (yeah, we went there) as Calvin's last collab with his girlfriend at the time, Rita Ora.
When the couple split, Calvin banned Rita from performing their joint song 'I Will Never Let You Down', saying that he had "damn good reason" to do so. Awk.
We're still VERY excited about the prospect of a Caylor song – make it happen, guys!