Rihanna Feeds A Giraffe And Cuddles A Lion Cub During South Africa Visit
14 October 2013, 14:47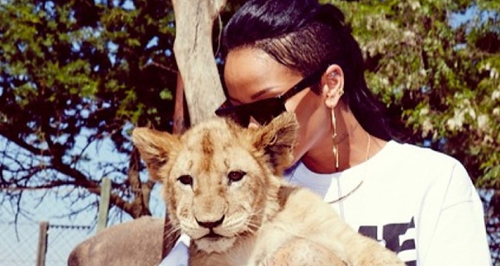 The 'Pour It Up' singer got close to nature and met some of Africa's famous wildlife during the trip.
Rihanna shared some awe-inspiring pictures with her fans over the weekend after she got the chance to meet some of nature's giants during a zoo visit in Johannesburg, South Africa.
The 'Diamonds' singer got to enjoy some downtime before her 'Diamonds' tour shows in the country this week by hanging out with animals like a cheetah, giraffe and even cuddling up to a lion cub during her visit to a zoo near the city.
Rihanna is seen going casual for her wildlife experience in a white t-shirt and shades, while also getting to feed a giraffe and pose next to a cheetah for the trip.
Check out a picture of Rihanna getting to feed a giraffe during her visit below (Credit: Instagram):
Earlier this month Rihanna showed off behind the scenes on her 'Pour It Up' music video with some racy footage of her risqué video outfits.
Rihanna is set to continue her 'Diamonds' world tour with a show in Cape Town, South Africa on Wednesday (16th October).