Rihanna Sparks Rumours Of A Feud With Beyoncé After Liking This Fans Instagram Rant
8 December 2016, 14:35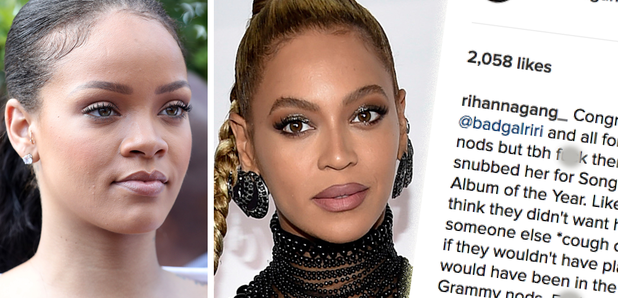 This story is the perfect example of read before you like...
Every year the Grammy Awards has some kind of controversy.
Whether it's certain artists not being nominated or a questionable acceptance speech, there is always something to talk about.
Well Rihanna just sparked the first big Grammy's 2017 controversy by liking this Instagram post and it sent Beyoncé fans into overdrive.
Whilst the picture isn't overtly contentious, the comment that accompanied it was super salty.
It said 'Congrats and all to @badgalriri and all for her 8 Grammy nods but tbh f**k them because they snubbed her for Song of the Year and Album of the Year. Like how my n***a!? I think they didn't want her tied or passing someone else *cough cough* . Cause if they wouldn't have played her she would have been in the lead with most Grammy nods. F**k u Grammys, ANTI did amazing things this year and y'all played her. I think y'all shook!
So this fan thinks Beyoncé was favoured by the Grammy panel and that they purposely left out Rihanna from certain catergories in order for Bey to lead the way with nominations - and Rihanna liked it! Wow.

Picture: Getty
You can imagine the kind of reaction that some members of Beyoncé's fan group the Beyhive had and they flooded her Instagram pics with lemon and bumblebee emojis - before speculation about a feud between the pair quickly started to spread.

But after the feud talk sparked up, Rihanna actually commented on the pic to clear up any confusion about exactly why she liked it.
Rihanna wrote, 'I never actually read your caption, thought the pic was funny and moved right along! Til I seen it pop up over and over! I'm petty af, yes. But this is just unnecessary! I wish y'all would drop this topic and see things from the bigger picture! We don't need to be putting black women against each other! We deserve to be celebrated, and the Grammy Academy agrees!'
So RiRi doesn't actually read the captions of fans posts before she likes them? Well it seems like she's learned a valuable lesson this time around then!
Feud of the century averted.
You may also...