1D's Zayn Malik Raps While Working On New One Direction Music With Naughty Boy
22 May 2014, 22:17 | Updated: 22 May 2014, 22:19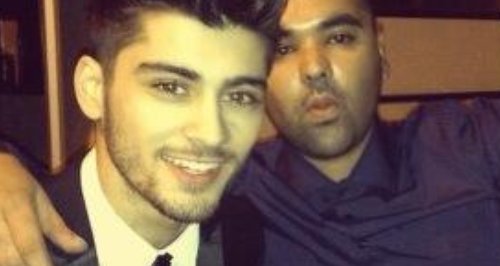 The chart-topping DJ/Producer praises the rapping skills of the 'You & I' singer after their studio session.
Naughty Boy has been praising the rapping skills of 1D's Zayn Malik following their recent studio sessions working on new One Direction music.
Talking to Max at the Ivor Novello Awards Naughty Boy explained, "Zayn's actually quite a good rapper, we've been in the studio doing some One Direction stuff, and he can spit bars!'"
Naughty Boy talks about working with 1D's Zayn Malik
The chart-topping DJ/Producer also described the song they have been working on as "amazing".
Reports surfaced earlier this year that the 'Story Of My Life' singer has been "gaining confidence" with his rapping skills and had been trying them out in the studio for the follow-up to 1D's 2013 album 'Midnight Memories'
"Zayn's loved getting creative and is fast gaining confidence to try out new things musically," a source told The Sun. "He even plucked up the courage to try to give rapping a shot.
"Everyone has been impressed with he results," they added. 'The results sound similar to Drake."
Check out a tweet Naughty Boy posted in March confirming the team-up:
sick studio vibes with @emelisande & @zaynmalik - forget what you think you know. #doitanyway

— Naughty Boy (@NaughtyBoyMusic) March 18, 2014
"The rest of the boys will be joining Zayn soon to record one of the songs he co-wrote with Naughty Boy," the Sun's source added. "Emeli's proved the track's big, catchy chorus."
One Direction kick off their 'Where We Are' UK stadium tour next week.
You may also like...
Watch X Factor boss Simon Cowell trying his hand at rapping, to Pitbull (!), in the video below: