"She Understands Me": Lady Gaga And Tony Bennett Talk Working Together
23 September 2014, 12:24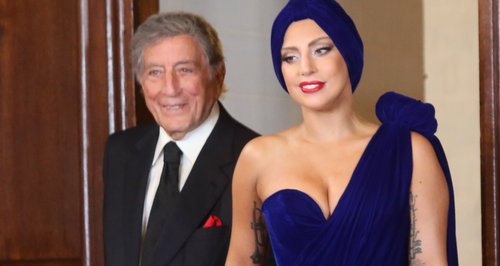 Lady Gaga and Tony Bennett talk about how their collaboration came about and their amazing connection.
She's 28 and he's 88, but there is no doubting Lady Gaga and legendary jazz singer Tony Bennett have one heck of a connection.
It was a pretty unlikely collaboration, but how did Gaga working with Tony come about? He revealed to CBS, "When I met her the first thing I said was 'Let's do an album together' and she said OK. It was that quick." Fast mover!
And the twosome have admitted the fact they both have Italian roots definitely plays a big part in their connection. Tony said, "She understands me and I understand her. [Gaga] reminds me of my mother, [she's] very similar to her."
And Tony – who has survived an incredible 70 years in the music business – has some advice to pass on to young Gaga about longevity in her career.
He told her, "Once you go for 45,000 people a night in a big stadium, you become very famous over anybody else. But then sooner or later someone else comes up and starts taking it away from you."
"This album will prove to her that, through the years, she will always be around because it proves that she's a great performer. She's a great performer but I knew that by doing what she was doing, sooner or later someone was going to come and top her."
And working together has given Gaga a new lease of life and love for her music after a tough year with ARTPOP.
She revealed, "I felt like some people were holding me to a very high standard. Everybody's hooting and hollering because I didn't sell 20 million records this time, which I did with my first album."
"It's not easy to replicate that. I crashed some time in the middle of last year, with everything that was going on I didn't even want to make music anymore."
And the change of pace with Tony helped put the smile back on Lady Gaga's face. She revealed, "I just want to be happy and I can't tell you how happy singing this music makes me. One of the first things Tony said to me was "Don't you ever, ever, ever again let anybody take down the quality or the intelligence of what you do."
And what did Gaga bring to Tony? She joked, "Styling tips! I'm kidding, you can't style Tony. I like that about him. But I hope what I have given to Tony is a moment for him to really bask in how many people's lives he has really changed."
Aww, you guys!
You May Also Like…