7 Reasons A Lady Gaga And Joseph Gordon-Levitt Tour Needs To Happen
29 November 2013, 10:39 | Updated: 29 November 2013, 12:11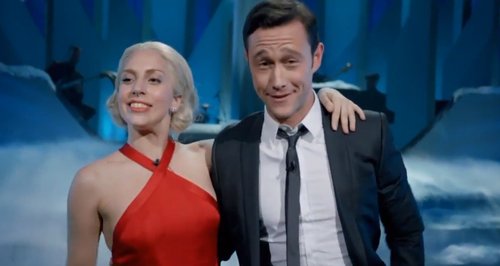 Trust us, once you've seen the evidence you will be begging them to do it!
So, last night Lady Gaga and Joseph Gordon-Levitt performed 'Baby, It's Cold Outside' together during her special Muppets Thanksgiving TV special – and it got us thinking.
Could you imagine how good a full live show between these two would be?
Now, we know what you're thinking, 'How could that ever possibly work Capital, they've only done one performance – slow down', but you'd be wrong.
Listed below are seven reasons this would be the best combination since peanut met butter.
1) Three years ago, this happened (Coincidence?)


2) At The VMAs, he just couldn't take his eyes off her

3) Someone (a genius) put this little montage together of all our fav JGL shots with Gaga's 'Paparazzi' over the top!
4) WOW
5) Right, now we're simply drooling all over the place
6) It doesn't stop....
7) Stick a fork in us, we're done!