WATCH: Justin Timberlake Could Be The Next Carpool Karaoke Star If James Corden Gets His Way
25 October 2016, 11:16 | Updated: 25 October 2016, 11:18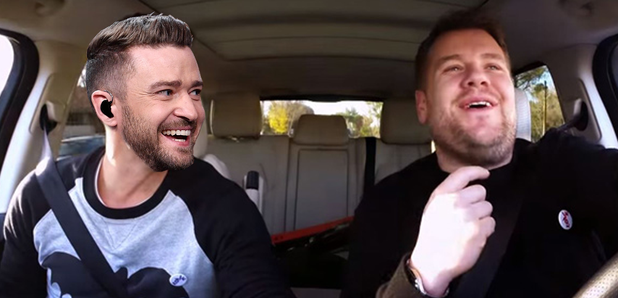 We could be getting a taste of 'Señorita' in the carpool lane VERY soon!
Since the very first time James Corden's Carpool Karaoke graced our screens with diva-licious Mariah Carey, we've become OBSESSED with the former Gavin & Stacey star's commute.
Everyone from Adele to Justin Bieber and One Direction to FLOTUS Michelle Obama has taken part in his Late Late Show segment and has become a worldwide phenomenon.
> WATCH: Lady Gaga & James Corden Get Their 'Bad Romance' On And Shout At Traffic In Carpool Karaoke
In an interview with E!, the British comedy legend opened up about the one person who he's desperate to share a ride to work with... Justin Timberlake!
The 'Can't Stop The Feeling' chart-topper has so far not agreed to do Carpool, but with such a busy promotional schedule, he's not had the chance. But this hasn't stopped James willing it to happen; "I hope so, one day... that would be wonderful!"
If Justin WERE to get involved with the skit, we can expect to hear his huge smashes 'Señorita' and 'Rock Your Body'... but hopefully James WON'T be getting naked by the end of the song!
Kanye West is so far the only person who's been confirmed to take part in Carpool Karaoke, but has dropped out... TWICE!
When the promotion schedule for his latest film, 'Trolls', comes to an end this year, we're hoping he's got some free time to go cruising around LA in James Corden's Range Rover!
Every 'Carpool Karaoke With James Corden' Guest Star
Mariah Carey & Christmas Special
Jennifer Hudson
Rod Stewart & A$AP Rocky
Elton John
Stevie Wonder
Carrie Underwood
You May Also Like...