Beyonce Enjoys Daredevil Freefall Off New Zealand's Tallest Building During World Tour
21 October 2013, 11:45 | Updated: 21 October 2013, 13:39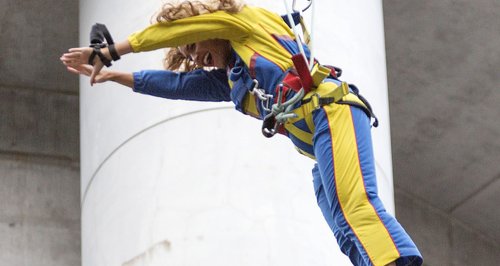 The 'Countdown' singer went thrill-seeking with a freefall stunt during time off from her tour.
Beyonce took some time off from her hectic touring schedule to enjoy a freefall off New Zealand's tallest building over the weekend.
The 'Love On Top' singer is currently taking her 'The Mrs. Carter Show' world tour around New Zealand and Australia, but got some thrill-seeking in on Friday (18th October).
Beyonce was pictured dressed up in a blue and yellow jumpsuit as she prepared for her freefall off the Auckland Sky Tower, performing two jumps of over 1000 feet off the man-made structure.
Check out a picture of Beyonce preparing for her freefall below (Credit: Instagram):
"Freefall in New Zealand!" Beyonce wrote alongside several snaps of her preparing for the daredevil stunt last week.
View a snap of Beyonce mid-air during her freefall below (Credit: Rex):
Beyonce has been widely rumoured to be preparing a new single for release in early December.
Beyonce gets ready to take her leap in the picture below (Credit: Instagram):