A Beyonce And Adele Collab May Be On The Cards As Jay Z Writes Them A Song!
23 October 2014, 11:56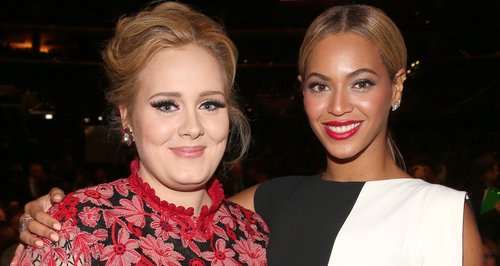 Imagine HOW amazing a joint song between two of the world's most powerful female singers would be? It could be happening pretty soon!
It's possibly the biggest news EVER – Adele and Beyonce look likely to be recording a song together in the new year – and there is even talk of joint gigs!
According to a Daily Star source, Bey and Adele might be working together on a song written for the two of them by Jay Z.
The source revealed, "Adele and Beyoncé discussed a collaboration on a night out at Harry's Bar in London last week. Adele was stunned when Jay Z said he had a song written with them in mind to perform together."
And how did Jay Z convince Adele to get on board? Well, he sang to her, obvs!
The source explained, "Bey and Jay even sang a bit of the song together, especially for Adele. Jay sang the lines that are meant for Adele. She was a little bit overwhelmed by it all."
As exciting as it would be for fans, these two vocal powerhouses teaming up would be pretty exciting for them too – Adele has been a massive Beyonce fan since she was a child, and Beyonce has also described Adele's voice as "like listening to God".
And it gets even better – the ladies MAY even perform joint shows as the source claims, "They also discussed the possibility of joint concert dates. Beyoncé enjoyed sharing headline duties with Jay Z on their tour this year and she thinks it could work well with Adele, too."
Too exciting!
You May Also Like…