WATCH: Ariana Grande's Live Cover Of Justin Bieber's 'What Do You Mean' Is A Must-See
21 September 2015, 10:25 | Updated: 21 September 2015, 10:27
Ariana Grande vs. Justin Bieber - One Last Time/What Do You Mean?
03:06
Inspired by a Youtube mash-up of 'One Last Time' and 'What Do You Mean', Ari's done an incredible cover of Justin's song on her tour.
The Internet loved it and now it turns out even Ariana Grande herself loves the viral mash-up of her song 'One Last Time' with Justin Bieber's 'What Do You Mean' - so much so, she even covered it on her tour!
With 420,000 YouTube views and counting, it's not hard to see why fans are still loving Jake Marra's mash-up of 'One Last Time' and Bieber's current hit 'What Do You Mean?' It just plain works!
Ari spoke out last week about loving the mash up - and she even incorporated a cover into her tour this weekend. Fans were delighted when Ari bust out her own version of Bieber's Big Top 40 number on hit live on stage in Texas.
Chatting in an interview last week, Ari admitted she also loves the YouTube mix and would love to hit the stage with Justin one day and do a duet version of the revamp. Err, YES PLEASE!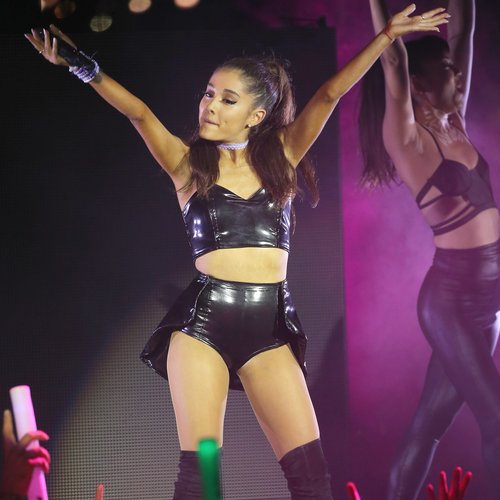 Picture: Getty
"I love it! I would love to perform that with [Justin]," she told Ryan Seacrest. "Whoever did that is such a genius. I've never thought to put two and two together but I love it."
We're totally with you on this one Ms. Grande! We'd never have put them together but everything about it sounds amazing.
Just in case you miss the original as well - which is doing VERY well on the Vodafone Big Top 40 right now - check out Justin's video for 'What Do You Mean?' below:
You may also like...
WATCH: Topless Bieber In Slow Motion