This Theory Claims Ariana Grande Is Pregnant
16 March 2018, 17:27 | Updated: 16 March 2018, 17:30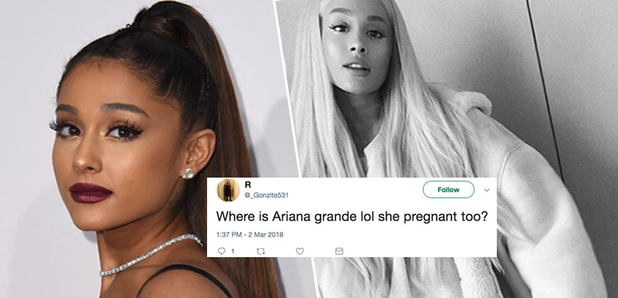 Fans are becoming so impatient with Ariana's silence that they're wondering if there is more to her absence than it seems.
In what seems to now be officially termed 'pulling a Kylie' people are speculating whether her disappearing is a sign the 24-year-old is expecting her first child.
So apparently @ArianaGrande is 2 months pregnant. Im- Ariana are you?

— Alex (@MMoonlightAlex) March 15, 2018
@ArianaGrande hasn't posted on ig for so long, maybe she's pregnant too- following the Kardashian-Jenner trend

— Ariana_G18 (@Ariana_G2018) March 6, 2018
People have also pointed out the fact she has been spotted in baggy clothing on the rare occasion she is seen out.
What Is The Release Date For Ariana Grande's New Album?
But wait a min?! Her signature style has always included over-sized jumpers and bombers. We need more proof than that people!
Ok... it has been AGES since we heard from the 'Side To Side' singer. Since last year in fact, with her last post cryptically captioned 'see you next year' alongside a teaser of new music.
In reality, Ariana has probs been taking some well-earned rest and relaxation before her next album, which she teased the other day on her IG story.
Planets are always here #AG4IsComing #AG4 pic.twitter.com/owC4H4UlUR

— Katy & Ariana Charts (@chartskatyari) March 2, 2018
We're gonna need some more solid proof than a lack of insta-posting. Many fans are dismissing the rumours and know the only thing Ari is only waiting for to come full term is her album.
Yea, right. Ariana is pregnant... with new album #AG4IsComing

— jerozolima (@egonschielele) March 3, 2018
But still, wouldn't it be amazing?
Watch Ariana sing her lil heart out in Carpool Karaoke