What Is The Release Date For Ariana Grande's New Album?
5 March 2018, 17:47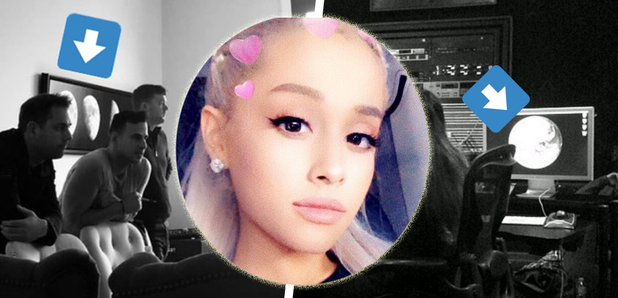 Having teased new music recently from her fourth studio album, here's everything we know so far about Ariana Grande's latest project...
We've been getting hyped for Ariana Grande's fourth studio album for ages, especially since she posted a teaser of new music to her Instagram account on 1st January.
But where is AG4 and when will it be released? Well here's everything we know so far...
> The QUEEN, Ariana Grande, Is Bringing Out New Music In 2018, And This Snippet Is Gonna Get You HYPED.
What Is Ariana Grande's New Album Artwork?
There's a theory floating around online that suggests the moon could play a big part in Ariana's latest offering and we're totally buying into it! One Twitter user spotted a picture of the moon in both a studio snap and on the wall during Ariana's recentl album listening party...
Planets are always here #AG4IsComing #AG4 pic.twitter.com/owC4H4UlUR

— Katy & Ariana Charts (@chartskatyari) March 2, 2018
Some fans have suggested her album might be called 'The Dark Side Of The Moon', or that a picture of the moon could be the official album artwork, so we can't wait to find out how true these theories are!
AG4.
THE
DARK
SIDE
OF
THE
MOON
REMEMBER THESE WORDS AND THIS TWEET. JUST REMEMBER. THE DARK SIDE OF THE MOON. WHEN THE TITLE DROPS. REMEMBER THIS TWEET. RADIO SHOW HOST SAID A FEW MONTHS AGO "NEW MUSIC FROM ARIANA COMING SOON THE DARK SIDE OF THE MOON" AND LOOK AT THIS. REMEMBER. pic.twitter.com/rKe31Mytl9

— taylor (@dcrtyboca) March 3, 2018
Who Produced Ariana Grande's New Album?
It's been revealed that half of Ariana's latest album has been produced by long-time collaborator Maz Martin and the other half has been produced by the legendary Pharrell.
According to reports, Ariana has written or co-written every single song on the album, making it a truly personal release that is sure to impress fans around the world.
What Is Ariana Grande's New Album Called?
With details about the album being few and far between atm, we still don't know the official title for Ariana's new album, but with the moon said to play a big part, some fans are suggesting it could be called 'Moonlight' or 'Honeymoon Avenue'.
At the same time, it could literally be called 'Ariana Grande's Greatest Hits', so we'll have to wait and see!
> Download Our Fancy New App For All The Latest On AG4!
Whilst you're here, check out this incredible throwback video of Ariana and her pals recreating 'Mean Girls'...