14 Of The Weirdest Celebrity Possessions That You Won't Believe Have Been Sold On eBay
28 June 2017, 13:36 | Updated: 7 December 2018, 17:23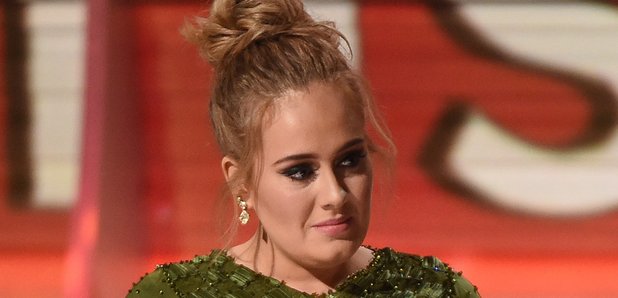 From Justin Bieber's used milk glass to Jennifer Lawrence's sports bra - here are the weirdest celebrity things that have been sold online.
Ever fancied knowing how much Justin Bieber's actual toothbrush would cost you? How about one of Beyoncé's hair extensions she dropped during an energetic dance routine? That sounds like something you'd want to frame and have on your wall, right? Well, neither of those things have come up for auction just yet, but why not check out the weirdest celebrity items people have flogged on eBay instead?
Justin Bieber's right shoe
At the end of his Purpose Tour date in Frankfurt, Justin Bieber took his Yeezy trainers off and lobbed them into the crowd... and the person that managed to get hold of the right shoe quickly whacked it on eBay for the princely sum of 5000 Euros. The left shoe is currently not for sale but has got its own Instagram page, so there's something...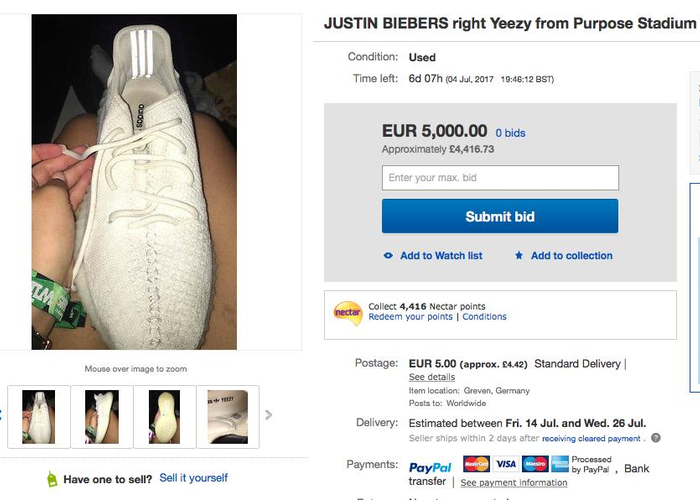 A bag of air from Adele's tour date in Adelaide
Someone's listed a bag of air they claim is from Adele's tour date in Adelaide... and to make things even sweeter you get a sandwich bag free. The listing read, "Grab a piece of history for your Adele collection. A true fan must have this air. Bid now for a bargin please note im selling a coles sandwich bag which contains the air." [sic]. Yep, a bag of air for $15 is a true bargain.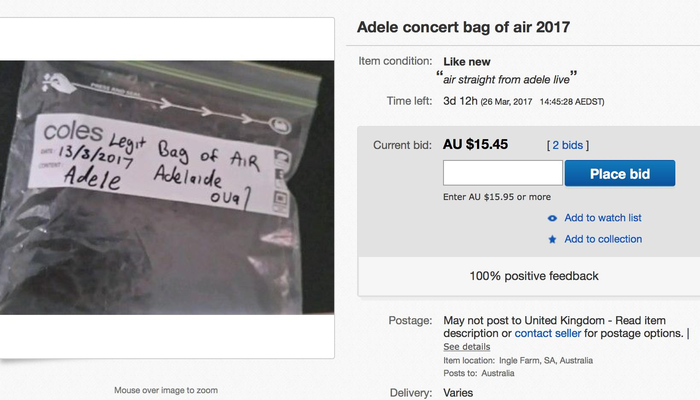 A milk glass Justin Bieber drank from
When Biebs was in the UK last year, he stopped off for dinner at a small pub - and one of the waitresses put the milk glass he drank from straight on eBay after he left. Although the cup gained bids of £66,000 overall, they turned out to be fake bidders, and while the girl said she was actually going to keep it for herself, she ended up flogging it after all... for the princely sum of £30.99.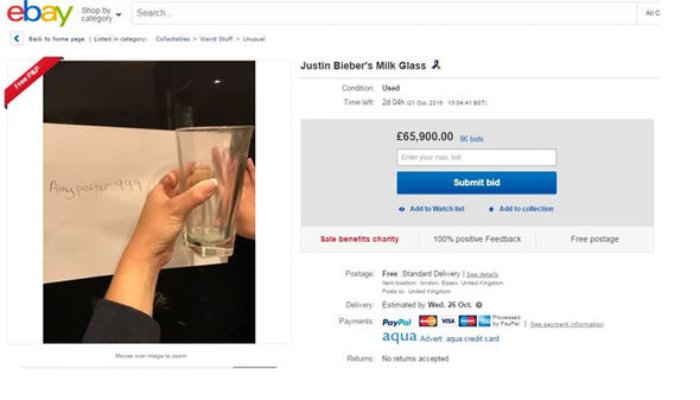 Britney Spears' pregnancy test
Back in 2005, a pregnancy test which was said to belong to Britney made its way onto an online auction. Someone claimed that they had found the test - which gave a positive result - in the rubbish bin of a room Britney had been staying in with her husband, Kevin Federline, in Los Angeles. It sold for $5000 and Britney later confirmed the pregnancy to the public, too!
Lady Gaga's false nail
When one of Gaga's false nails fell off on stage, someone who worked at the venue managed to find it - and it sold for more than $12,000 on ArtFact.com back in 2012. Not bad for something they picked up off the floor at the end of a gig, huh?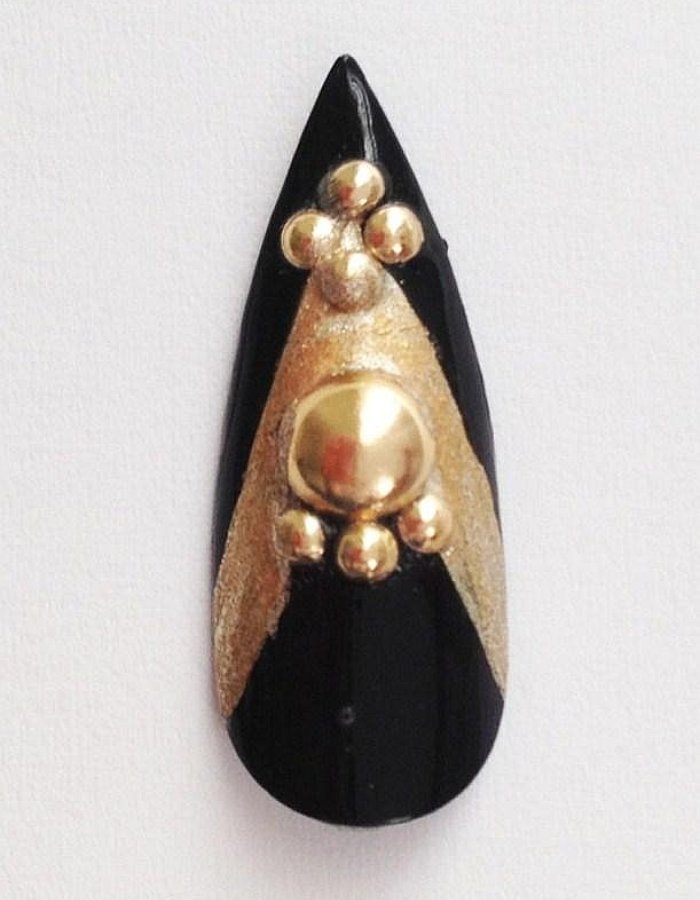 Picture: ArtFact
Jennifer Lawrence's sports bra
Yep, someone paid $3175 for a sports bra and workout top J-Law wore while filming Silver Linings Playbook. No word on whether the items were washed or not, but you'd hope so for that price. (Or maybe not - who knows?!)
A pair of the Queen's pants
Yep, a pair of frilly bloomers which were claimed to belong to Queen Elizabeth II were auctioned on eBay in 2012 after a Hungarian Baron got hold of them after they were left on a private plane following the Queen's visit to Chile in 1968. The pants had a crown and the letter 'E' embroidered on them, though the palace never confirmed they were real, they still ended up selling for just under $6000!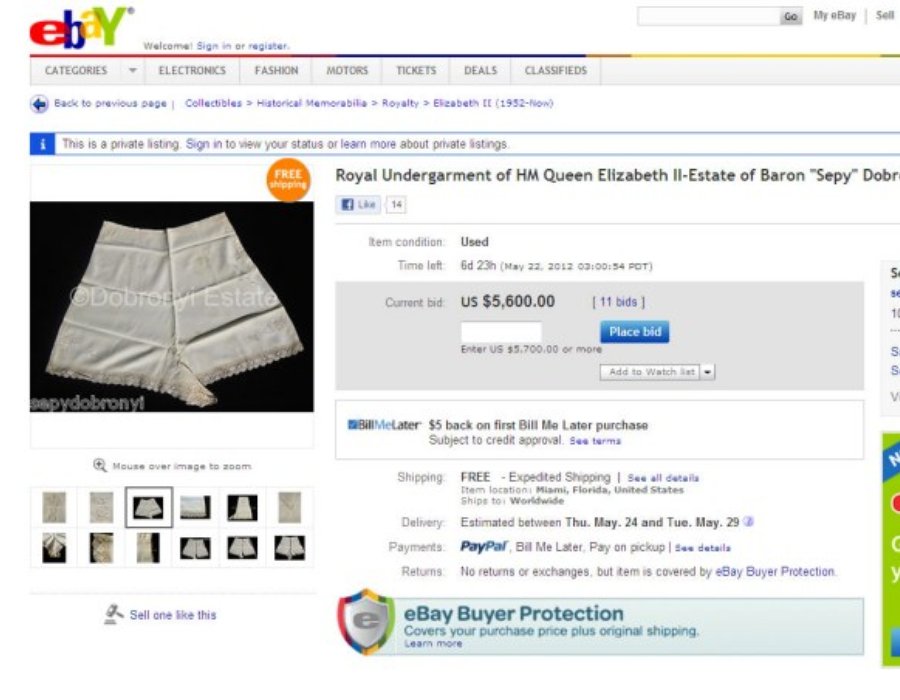 Scarlett Johansson's used tissue
Yep, this came complete with the actress's cold germs as she blew her nose on Jay Leno's talk show, put the tissue into a ziplock back and signed it and it was auctioned off for $5,300. While the charity donation is awesome, why would you want someone else's snotty tissue, even if that person was Scarlett?!
Justin Timberlake's french toast
Back in 2000, JT visited a radio station in the USA and barely touched his French toast... which the station then auctioned off for charity and it was bought by a 19-year-old girl who paid $1025 for the two slices which she wanted to freeze dry and keep on her dresser.
Britney Spears' chewing gum
Several pieces of chewing gum claiming to be from the mouth of Britney have been listed on eBay over the years, but the most one has been bid up to is $14,000. That's a lot of money for a piece of gum!
Brangelina's breath in a jar
Yep, someone ACTUALLY paid $523 for a jar of air that the seller claimed contained the breath of Angelina Jolie and Brad Pitt after it was 'captured' while the couple walked by on the red carpet. Aside from the fact it's pretty weird to want a jar of anyone's breath, we're going to go out on a limb and say that probably none of that air ever came from Brangelina's lungs. Sorry.
Justin Bieber's hair
JB donated a lock of his gorgeous blonde locks to Ellen DeGeneres and the chunk of his hair in a signed box fetched an impressive £25,000 for an animal charity.
A bag of air from a Kanye concert
Someone posted a bag of air they'd collected from one of Kanye West's 'Yeezus' shows on the site and it had attracted bids over $60k before it eventually got removed. While a bunch of copycats then followed suit with their own bags of 'Kanye West Air', even Kim Kardashian was so impressed with the original listing, she tweeted about it!
WOW he can sell anything! Lol RT "@Femail: $65,000 for a bag of air from a Kanye West concert http://t.co/YnZapfk3id pic.twitter.com/tMfw16rCXP"

— Kim Kardashian West (@KimKardashian) March 6, 2015
Nikki Grahame's lost shoe
Remember Big Brother star Nikki Grahame? In 2015 she lost a shoe (much like Cinders herself... kinda) as she got into her car after a night out at Little Mix's Black Magic party, and a bystander made sure to grab it - but not before the shoe had been run over by the cab. The bids ran up to £6000 before the auction was removed and people wondered whether it was actually being flogged by Nikki herself as the photos from the night showed her with the wrong shoe on her foot. Very mysterious...
I lost my shoe last night now it's on eBay I'm actually going to have to buy my shoe back pic.twitter.com/SZUIdXOVez

— Nikki Grahame (@NikkiGrahame) July 21, 2015
Niall Horan's toast with Vegemite
When Niall tried the Aussie delicacy back in 2012 it's safe to say he wasn't a fan of Vegemite... but the radio station saved his slice of toast with a bite taken out of it and put it on eBay - and managed to rake in £65,000 for a charity. So it might be a little gross, but it was all for a good cause!