Our Favourite Songs From The Nexflix Sex Education Soundtrack
21 January 2019, 08:12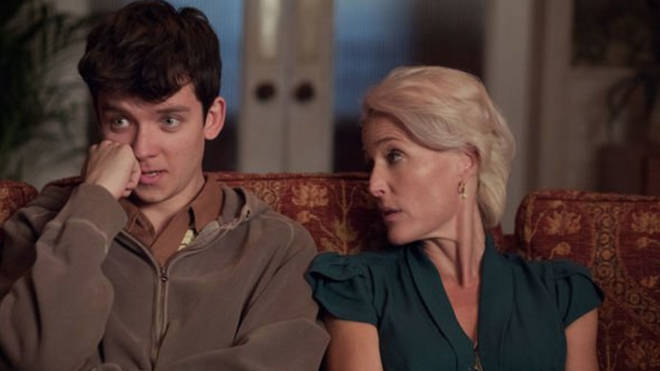 Netflix's Sex Education has been met with high rating since its release earlier this month.
Netflix's Sex Education is based around Otis, an awkward teen headed into his final two years at Moorfield High. The teenage boy and his sex therapist mother team up with another classmate to set up an underground sex therapy clinic at the high school.
Netflix's Sex Education: Why Does The British Comedy Feel So American?
Each episode comes with an epic song and we've collected all our faves into one list for you. Check them out:
Ezra Furman - 'Love You So Bad'

While Otis and Eric cycle to school, the song 'Love You So Bad' plays in the background.

King Khan - 'Born in '77'

After an argument with his Mum, Otis blasts 'Born in '77' in his room. The perfect song after a bust up.

Billy Idol - 'Dancing With Myself'

The TV show even thew it back to 2009 in that scene where Otis was studying biology.

M.O x Lotto Boyzz x Mr Eazi - 'Bad Vibe'

During Eric's conversation with Anwar at the house party you heard 'Bad Vibe'.

Ezra Furman - 'Restless Year'

This song plays just after Otis and Maeve figure out how they're going to hold the undercover sex clinic for their classmates.

Ann Pebbles - 'I Can't Stand the Rain'

This banger plays as Eric applies makeup in the secrecy before being forced to remove it.

Beth Ditto - 'Fire'

'Fire' played as Otis wondered if his planned meet up with Maeve was a date.

Ezra Furman - 'Driving Down to LA'

One of the many songs by Ezra Furman played at the school dance.

Coldabank - 'Lovin' You'

Coldabank's 'Lovin' You' played in the background at the scene at the abortion clinic before being changed by a patient.

Slotface - 'Nancy Drew'

Jackson choose 'Nancy Drew' as the track to impress Maeve with his music taste.

Billy Ocean - 'Love Really Hurts Without You'

Oozing old school romantic vibes. Jackson couldn't help but sing the song in front of the entire school to win over Maeve.

Sigue Sigue Sputnik - 'Love Missile F1-11'

If you know, you know!