No One Knows What These Secret Areas In The CBB House Are For
16 January 2018, 15:32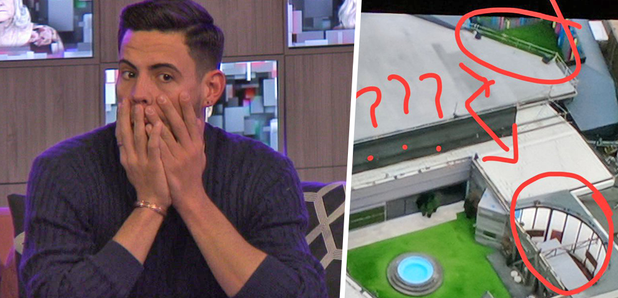 Could there be new housemates on the way?
We all know that Big Brother producers are a secretive bunch. They love to trick us into thinking we know what's happening with the show and then drop bombshells on us when we least expect it.
So when one viewer spotted some 'secret' areas in the current CBB house, it had us asking so many questions.
> Celebrity Big Brother's Jess Impiazzi Revealed That She's Secretly Married To An England Sports Star

Twitter user @ShutUpReece was watching a recent episode when he noticed the hidden spaces during an aerial shot and took to Twitter to question exactly what they were.
What are these areas? #CBB pic.twitter.com/yjG0A555YM

— ShutUpReece (@ShutUpReece) January 15, 2018
The one at the top of the picture appears to be an outside area featuring a grass space similar to what the housemates are currently enjoying in the garden, but the other secret area is less clear. It's joined to the back of the smoking area and seems to have some screens on the wall.
Of course without an official explanation from CBB, the rumour mill is in overdrive and there are plenty of fan theories about exactly what these areas are.
One user claimed the newly discovered garden area is from an older series and could be used for tasks, but that grass looks a little too well kept if you ask us!
the bit at the top is the garden for the second house from older series

— Tyler M (@HabbosTylerM) January 15, 2018
The theory that the secret areas could be used to accomodate new celebrity housemates was also thrown around, whilst it could also be that the hidden space behind the smoking area is for production crew and not part of the actual house at all.
No one seems to have a solid answer about what these newly discovered spaces are, so if you're reading this Big Brother, please take us out of our misery ASAP!
> Download Our Fancy New App For All The Latest Celebrity Big Brother News!
Whilst you're here, check out the Shane/Andrew incident which caused a huge split on Twitter recently...