We Bet You Can't Make It Through This Post Without Spending £50 On Ibiza Essentials!
7 July 2016, 10:18 | Updated: 4 December 2017, 11:10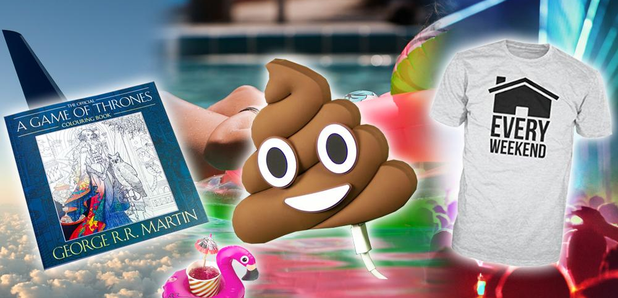 Whether you're heading to Ibiza or Vegas, these are the absolute essentials for under £50 that you never knew you needed!
There's nothing more exciting than a summer holiday, and with the likes of Martin Garrix, Avicii and Calvin Harris keeping the party vibes going across the globe, an international break in 2016 is ESSENTIAL!
We've scoured the Internet to find 19 of the best things you can buy with change from a £50 note that are sure to make summer 2016 your best holiday yet!
Keep Your Luggage As Secure As Your Selfies
It's 2016, therefore nothing is cool unless it's controlled by your phone... so it's time to bring your luggage into the 21st century! Forget losing tiny little keys and forgetting codes to combinations, now you can secure your suitcase just using your mobile!
Share Your Music With Your Mates
You've spent hours creating your perfect holiday playlist, but it's no fun jamming on the plane by yourself - plug up to 5 pairs of headphones into this handy Belkin Rockstar splitter and share the love!
Get A Decent Flight's Sleep
If you're lucky enough to fall asleep on a plane, no doubt you'll end up with your mouth hanging open and your mates taking disgusting Snapchats of you. Well here's a handy solution - a travel pillow that actually keeps your mouth shut!
Block Errything Out
Ok, so you're certain that your mouth's gonna stay shut and your neck will be rave-ready upon landing, but there's still that awful cabin lighting to deal with. Block everything out with a Glo to Sleep relaxation therapy eye mask, which will also come in super handy for ensuring a cheeky lie in the morning after the night before...
In Flight Entertainment... On A Budget
If you're one of those people that just CAN'T sleep on a plane, keep yourself busy with a spot of colouring in and pretend you're 5-years-old again. Although instead of The Lion King, why not step up to a Game Of Thrones colouring book? (Tip: You might need an extra red pencil...)
Take Your Selfies And Pool Snaps To The Next Level
Nobody takes a camera on holiday anymore, so it's time to upgrade the shots you take on your phone. Throw on a wide angle lens to make sure all your mates get in your selfie, or make your pool-side shots look as fly as possible with a cheeky bit of fish eye!
Get The Pool Party Started!
Whether you're chilling by the pool or people watching at the beach (we know your game!), you need those essential mixes pumping all day long. Get the party vibes going with a decent bluetooth speaker to bring those carefully curated playlists to life - just make sure you get one that's sand and water resistant so the party doesn't have to end early!
Keep The Fun Going In The Water
Beer pong is a house party essential - but what happens when your squad are 1,000 miles away and by a pool? POOL PONG OBVS! BYO red cups!
Have Some Bird Look After Your Drink
Once the games are over it's time to relax and unwind... but when you're floating on a lilo, where do you put your drink? Instead of having to ungracefully paddle to the poolside to get your mojito, leave it in the capable hands (wings?) of a flamingo or swan!
Leave The Beach Towel At Home...
Forget about laying on the uncomfortable sand, chill like a princess with an air lounger! Not only are they super light and easy to set up, you're higher than everyone else which makes people watching SO much easier! Just don't forget those mirrored shades...
Lead The People To The Next Party
You could become the Pied Piper of party animals with this cheeky pair of flip flops - and if they're really obedient, your bar bill will be MUCH lower too. RESULT!
Use An Emoji To Keep Your Phone Juiced Up!
The worst part of a night out is your phone battery letting you down, so nobody back home will get holiday envy from your Snapchat. Well now you don't need to worry - just carry a cheeky eggplant or poop emoji in your pocket and you'll be vomiting rainbows all night long!
Wear Your Fave Tunes
Whether you genuinely think they're hilarious, or you're after a bit of irony in your style, novelty tees are a staple for any group holiday. If you're heading to anywhere with a decent club scene, this HAS to be our recommendation... Also makes requesting David Zowie SO much easier!
Don't Risk A Cheeky Fart Ruining Your Night!
Don't blow your chances with that hottie in the club! The last thing you want to happen is a sly fart ruin your time with a holi-bae, so take the ultimate precaution by investing in underwear that actually filters out smells from behind.
Be A Smartie Pants
Okay, so anti-flatulence underwear might not be your style, but here's something that might actually come in handy. If you're the sort of person that wants to leave their cards and cash at home, this might be right up your alley! Yes, it's another pair of underwear, but these are SMART EPANTS! These briefs act just like a contactless debit card, so you can pay for your drinks, your evening meal, even your post-flight coffee with a cheeky hip thrust. This is the future!
Or Just Use Your Usual Assets...
Okay, we're not ACTUALLY suggesting that you use pants to pay for everything, sometimes you need to carry some cash, but who *really* wants to dance around handbags all night? Ladies, use what your mama gave you and stash everything in your bra. Instead of just shoving it in you bra, try a Bra Stash - you'll never wake up with a Visa card stuck to your boob again!
Rave It Up Like It's 1999
It's common knowledge that a party can NEVER have too many lights - that's why you can rave it up and add to the party with lasers strapped to your fingers! So get your neon paint and leg warmers on and slap on a glowstick, because we're going raving!
Don't miss the freshest tunes in the mix, ad-free for 8 hours - The Capital Weekender with Ministry of Sound kicks off at 10pm every Friday & Saturday.
You May Also Like...