Chart Update: Ellie Goulding Could FINALLY Topple Mark Ronson & Bruno Mars
30 January 2015, 17:03 | Updated: 30 January 2015, 17:11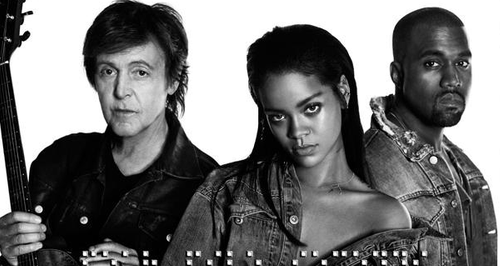 Ellie Goulding's brand new hit 'Love Me Like You Do' has been released early due to phenomenal demand!
Last week was a record breaking week when it came to the charts. It was the first time in the HISTORY of the Big Top 40 that a song has held onto the top spot for SEVEN weeks. Can 'Uptown Funk' make it eight? Surely not? Well here are the contenders and the reigning No.1!
The CURRENT No.1: Mark Ronson feat. Bruno Mars - 'Uptown Funk'
Here is the record breaking song. Mark Ronson & Bruno Mars released this all the way back in late December and it hasn't left the top spot since. Can they go one better and make it eight weeks on top?
Ellie Goulding - 'Love Me Like You Do'
Ellie's huge new track, taken from the upcoming 50 Shades Of Grey movie soundtrack, has been a firm favourite on the Capital playlist since we gave it our first play back in January - so it comes as no surprise that it's going to be released early! Instead of its intended 15th February release date, alongside the movie itself, Ellie's 'Love Me Like You Do' will be dropping at midnight on Sunday. The last time a track was released early, it spent an epic seven weeks at No. 1 - and we all know who that was!
Rihanna feat. Kanye West & Paul McCartney - 'Four Five Seconds'
It's new Rihanna material! Finally! The Bajan singer has teamed up with legendary Beatle Paul McCartney and the biggest rapper around today, Kanye West. Can they knock Mars & Ronson off the top?
Hozier - 'Take Me To Church'
You must have heard this track by now. It may not be a pop classic or a thumping dance tune, however Hozier has defied all odds with his gritty bluesy guitar riffs and immaculate voice. He currently sits in fourth place but will be looking to move up again.
Fergie - 'L.A Love (La La)'
Black Eyed Peas' leading lady is back with this tune full of good vibes and attitude. You may recognise rapper YG in this video, who also features on Jeremih's 'Don't Tell 'Em'. Can Fergie go one better than last week and get the gold?
Karen Harding - 'Say Something'
You may recognise Karen Harding from season 10 of the X Factor, where she was unluckily eliminated at boot camp. This however hasn't stopped the singer/songwriter who debuted her first ever single at No.7 last weekend.
You May Also Like...