Awk! Taylor Swift Bumps Into Her Ex, Harry Styles, On A Night Out
16 January 2015, 11:18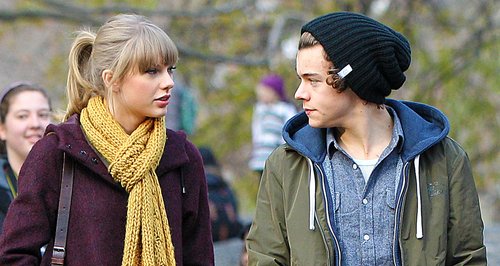 It's always awkward bumping into an ex, but it's even worse when you're both super famous pop stars… and someone records the whole thing!
(Picture: Splash)
It's never fun to bump into an ex boyfriend or girlfriend, least of all one that you have written a lot of emotional songs about… but Taylor Swift ended up in an awkward-looking conversation with Harry Styles on Wednesday night.
Haylor ended up at the same party for Kings Of Leon lead singer Caleb Followill at the Sunset Marquis hotel in LA on Wednesday night where they chatted to the same group of friends.
Despite being a matter of steps away from each other at the time, Taylor was seen furiously avoiding eye contact with Harry and performing that classic avoidance technique of looking at something on her phone according to the video by TMZ.
Harry and Taylor only dated for four months back in 2013, but Tay Tay reportedly wrote 'Out Of The Woods' and 'Style' from her new album '1989' about the One Direction hunk.
It's not the first time in recent weeks that Taylor has had an awkward ex moment – she also bumped into Jake Gyllenhaal at a Golden Globes after party last weekend.
The Daily Mail reports that Taylor, who dated Jake for two months back in 2011, had a 'mini meltdown' when she spotted him.
A source claims, "[Taylor] wasn't dancing. But I saw her grab her friend's hand and repeat 'We have to go. We have to go'."
Here's hoping Tay Tay avoids the rest of her exes for a little while – that's way too many uncomfortable conversations for one week already!
You May Also Like: