One Direction's Louis Tomlinson Signs For Doncaster Rovers Football Club
1 August 2013, 14:38 | Updated: 1 August 2013, 14:40
The 'Little Things' star will remain in the band and play for the reserves team to raise money for charity.
One Direction star Louis Tomlinson has become the latest signing for Doncaster Rovers football club after agreeing to become a non-contract player.
The Championship squad have brought the boyband star on board, giving him the number 28 shirt in the team.
It has been revealed that the singer will play at least once for his hometown team's reserves squad – with funds from the match going to the Bluebell Wood charity.
Speaking to the club's website, the 'Gotta Be You' singer said: "This has always been a childhood dream for me. I feel very honoured to have been asked to sign for Rovers and being able to help both the club and the amazing charity Bluebell Wood is what it's all about."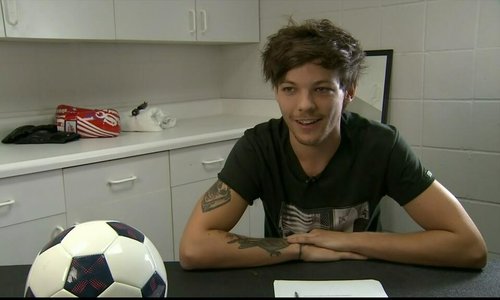 Chairman John Ryan added: "I am honoured to let Louis play in my number to help raise money for the charity. I wore this in 2003 for my record beating appearance at Hereford and this is the first time I have allowed it to be used since but I felt this was a good cause."
Louis has previously played in charity games for the team, watched on by the rest of his group.
The singer will remain in the band full-time and is currently on the road with the 'Take Me Home' world tour.