Who Let Miley Cyrus Loose With A Tattoo Gun?! The 'Wrecking Ball' Singer Inks Her Pal!
29 July 2014, 11:25 | Updated: 29 July 2014, 15:05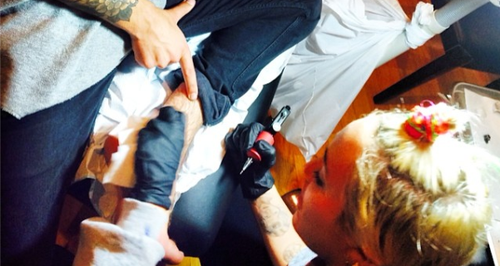 'We Can't Stop' gawping at Miley Cyrus tattooing her friend's ankle – you do know that's PERMANENT?!
Miley Cyrus is no stranger to a tattoo or two herself, but she's been on the other side of the needle this time – tattooing her assistant's ankle! Ouch!
Miley posted a series of snaps on Instagram of her inking her assistant Cheyne Thomas at the weekend, and of her getting a tattoo on her ankle as well.
Miley posted a photo of her handiwork once it was completed – a slightly shaky smiley face – but kept her own latest ink under wraps.
Miley Cyrus already has over 20 tattoos – so she's probably going to run out of space if she starts getting DIY ink too!
Would you let Miley Cyrus loose on your skin with a tattoo gun? Let us know below!
You may also like…