Miley Cyrus Performed With A Cat At AMAs Due To Ban On Flashing Too Much Flesh?
28 November 2013, 14:31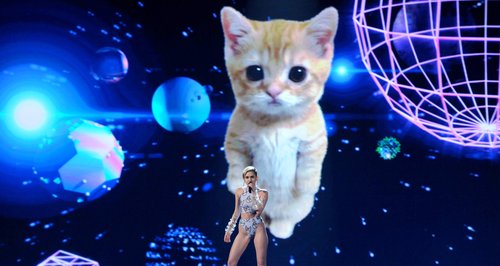 The 'We Can't Stop' singer and the rest of the performers were reportedly warned ahead of the show about their outfits.
It has been claimed that the reason Miley Cyrus performed on stage at the American Music Awards 2013 with a cat was because their was a ban imposed on flashing too much flesh.
Sources told Hollywoodlife.com that the giant video of the feline was Miley's way of still being able to "push the envelope".
"Performers were warned that they would be yanked if there was too much skin," the insider told the publication. "Even though her outfit was a bit more racy during the performance of 'Wrecking Ball', she definitely would have pushed it further."
The cat was displayed on screen behind Miley as she sung her hit 'Wrecking Ball', with the feline crying and even sticking its tongue out in true Miley trademark fashion.
The insider also gave further insight into Miley's red carpet outfit on the night as well.
"The reason why she wore such a conservative outfit on the red carpet at the AMAs is because producers wanted a show that the whole family could watch, and they didn't want any boobs or butts or slips," they added.
You may also like: