"He's Saved So Many Lives": Demi Lovato Dedicates Her Song 'Warrior' To Bruce Jenner
27 April 2015, 10:02
Demi Lovato dedicates Warrior to Bruce...
01:35
Ms Lovato praised Bruce Jenner's bravery for revealing he is transitioning into a woman by dedicating a song to him in concert.
The rumours of Bruce Jenner beginning his transition into a woman have been rife for a few months now, so the world of celebrity rallied round the former Olympian and Kardashians star when he finally revealed that he identifies as a woman in an interview last weekend.
Demi Lovato is the latest star to publicly show her support for Bruce's journey by dedicating a song to him at a concert in New Zealand after he made the revelation on the Diane Sawyer show on Friday night.
Demi dedicated her song 'Warrior' to Bruce, telling the crowd, "I want to dedicate it to someone who became an even bigger hero last night - Bruce Jenner!"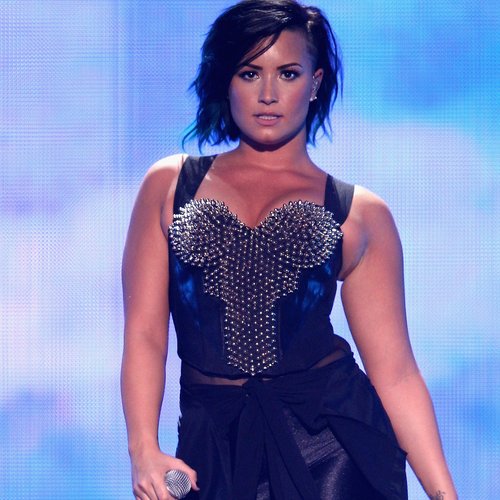 "By the way, I never ever thought I'd dedicate a song to him but he was honest and he was open with his story. No matter if you agree with it or not, he probably saved so many lives and educated so many people [about] transitioning into becoming a woman and being transgender and what that's all about."
Since Bruce revealed the news on Friday, a host of stars took to Twitter to show their support, including his family:
Love is the courage to live the truest, best version of yourself. Bruce is love. I love you Bruce. #ProudDaughter pic.twitter.com/7ZJ6FuMHfU

— Kim Kardashian West (@KimKardashian) April 25, 2015
Couldn't be a more proud daughter. With courage and bravery, let's change the world. I am honored to stand by Bruce's side and support him.

— Kourtney Kardashian (@kourtneykardash) April 25, 2015
Just finished watching the #BruceJennerInterview with the family. Bruzer, I'm soooo proud of you! Dads really are heros

— Khloé (@khloekardashian) April 25, 2015
Understandingly, this has been very hard for me. You will hear what I have to say when I'm ready to but...

— Kylie Jenner (@KylieJenner) April 25, 2015
..this isn't about me. I'm so proud of you, Dad. You are so brave. My beautiful Hero.

— Kylie Jenner (@KylieJenner) April 25, 2015
so very proud of you, my hero.

— Kendall Jenner (@KendallJenner) April 25, 2015
Not only was I able to call him my husband for 25 years and father of my children, I am now able to call him my hero.

— Kris Jenner (@KrisJenner) April 25, 2015
We have the chance to write this moment in history together. Let's empower people like Bruce all over the world by being loving & not mean.

— Lady Gaga (@ladygaga) April 24, 2015
bruce jenner is beautiful we all need to commit to making this world a more loving, supportive, SAFE /non judgemental place to be ourselves

— Ariana Grande (@ArianaGrande) April 25, 2015
the part of Bruce special educating people on trans terms.This is a new world so we all have new things to learn never be embarrassed!

— Miley Ray Cyrus (@MileyCyrus) April 25, 2015
Bruce Jenner is a beautiful, brave human being. Sending him lots of love. He's saving lives and opening minds tonight.

— Ellen DeGeneres (@TheEllenShow) April 25, 2015
Bruce also revealed in the interview that Kim Kardashian was the most supportive of him and later said that it was Kanye West who had helped her come to terms with Bruce being transgender.
The Kardashians are famous for sticking together through thick and thin and it looks like they will all be there for Bruce every step of the way.