Pete Davidson Covers Up His Ariana Grande Tattoo
11 October 2018, 10:23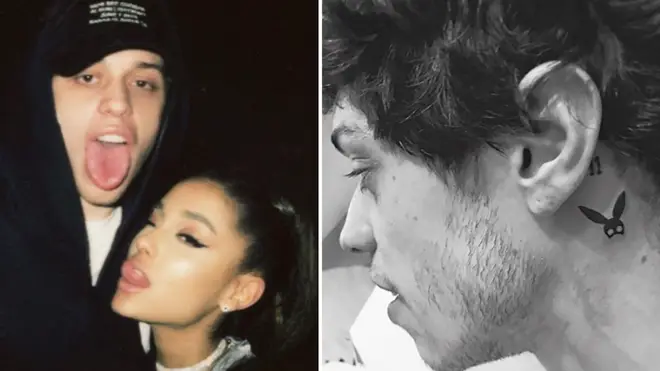 Pete Davidson has covered up the very first tattoo he got dedicated to his fiancée Ariana Grande.
The 24-year-old stepped out earlier this week with an inking of a black heart behind his left ear, which now covers his Dangerous Woman tribute.
It's unclear why he made the decision to change it, but it looks equally as cute if you ask us.
Ariana Grande Hilariously Trolled Kim Kardashian & North After They Copied Her Trademark Ponytail
However, some fans are now worrying that the move means the love birds are going to announce they've split any day now.
One Twitter user wrote: "Pete Davidson covered his dangerous woman tattoo, a tweet announcing the breakup with the notes app is coming!"
Another added: "Y'all I'm catching up on SNL from this week and noticed Pete Davidson covered up his Dangerous Woman tattoo with a big black heart Omg."
On closer inspection, though, the heart also has a tiny 'A' next to it. So it looks like everything is fine and he just fancied a change.
This Twitter user pretty much summed up how we feel about it:
Pete Davidson covering up one of his tattoos dedicated to Ariana Grande with a different tattoo dedicated to Ariana Grande is just about the funniest thing I've heard all week. Like, I'm tryna have Ariana's power and influence.

— snails 🐷🌻💄🧜🐲🌙🥞 (@_belladonnas) October 10, 2018
Same!