'Riverdale' Actor, Charles Melton Apologises After Fat-Shaming Tweets Leak
20 June 2018, 07:25 | Updated: 20 June 2018, 07:27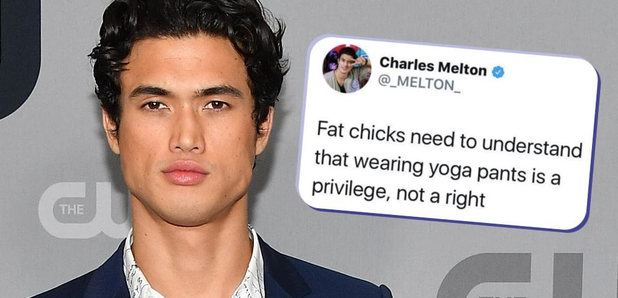 Old posts from the actor's Twitter account have surfaced, which show 'Riverdale' star, Charles Melton, fat-shaming to his 99k followers.
You may know Charles Melton for his role of Reggie Mantle in 'Riverdale', after he replaced Ross Butler. However, he's come into the limelight for all the wrong reasons, recently.
Fans have recently dug up old posts by the actor, which show the 27-year-old fat-shaming.
> Riverdale Season 3 Cast, Release Date, News & Latest Storyline
Charles has since had to issue an apology, after Tweets - which date back as far as May 2011 - show him joking about people's weight. He wrote messages such as "Don't tease fat kids, they already have enough on their plates..."
These fat shaming tweets from Charles Melton make me sick pic.twitter.com/nxabu4Xv38

— Choni memes (@choniweed) June 17, 2018
Speaking to US Weekly, Charles said "I'm truly sorry for making inconsiderate comments several years ago and apologize to anyone I hurt… What I posted and said was immature, offensive and inappropriate.
"I am ashamed of how I acted and there is no excuse for that behaviour," continued Charles. "I'm striving to do better and will use this experience to grow, helping others to understand how these types of statements are completely unacceptable."
> Grab Our App, And We'll Keep You In The Loop With All Things 'Riverdale'