5 Seconds Of Summer Love British Accents And Say UK Fans Are "Serious Party Animals"
26 March 2014, 11:19 | Updated: 26 March 2014, 11:21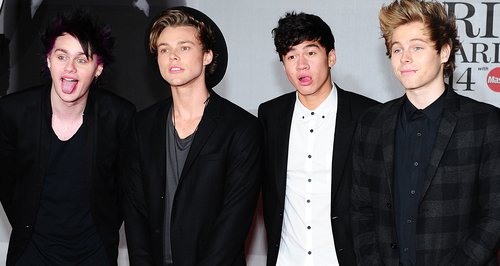 The Australian boy band say they have had a lot of "sexually-orientated" objects thrown at them.
5 Seconds Of Summer have named their UK fans as "serious party animals", while band member Luke Hemmings has revealed he is attracted to girls with a British accent.
The 'She Looks So Perfect' four-piece hit number one on the Vodafone Big Top 40 this past weekend, and the band have been opening up about the strange objects fans throw at them when they're on stage.
"The UK fans are serious party animals," Luke revealed to the Daily Star this week. "Weird objects being thrown on stage is a common theme here.
"A lot of sexually-orientated items have been thrown at us!" the 5SOS star teased.
Luke went on to open up on the type of girls he likes, as well as how much her loves the British accent.
"I'd like someone who is weird and wacky, and I love the UK accent," he explained. "They have to be not afraid to have a laugh because I'm a very weird guy when you get to know me.
"The UK is a second home for us now," Luke added.
5 Seconds Of Summer recently stopped by Capital for a chat where they ended up stripping down to their underwear.