5 After Midnight Reveal Debut Single & Tell Us How They Chose The Famous Sample
22 May 2017, 16:56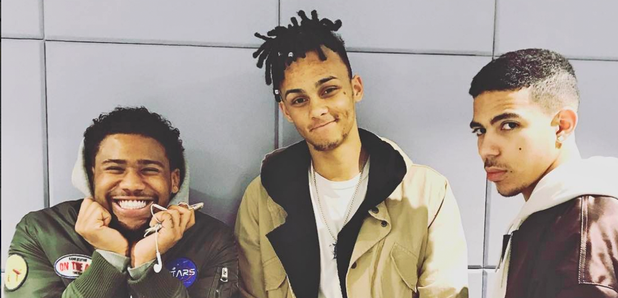 The guys tell us all about their very first single since appearing on the X Factor...
When you think of the groups that have come from the X Factor and been a huge success, there are some huge, huge names. From One Direction to Little Mix and JLS, some incredible music has been released by groups from the show over the years.
So as the latest group from the show expected to make a big name for themselves, 5 After Midnight have got a lot to live up to - no pressure though lads!
They recently took to Twitter to share the news that their debut single 'Up In Here' will be released on 2nd June and then Nathan, Kieran and Jordan dropped by Capital to tell us about how the song came about. What you might notice when you first hear it is that it actually samples a famous song by rapper DMX, which got us super excited!
The song was also written by #CapitalSTB performer Raye and Zara Larsson collaborator MNEK and the guys explained exactly how the song came to be.
Kieran explained, "So coming off the back of X Factor we were in our studio doing numerous bits for the album and we got the session with MNEK and Raye, who wanted to work on our project. We went through loads of samples and were like 'yeah this could work, this could work' and then DMX came up and we thought 'this is the one right here'."
"We all grew up listening to Hip Hop and DMX is one of the biggest inspirations in that field so hands up to him, and what better way to start off our career with one of his samples that everyone knows," added Jordan.
The trio also had hugely positive words to say about their experience working with Raye too, with Kieran stating, "She's so creative. I feel like when she writes she really thinks outside of the box and just comes with things people aren't really expecting to hear, so working with her was incredible as she's a dope songwriter and artist as well."
Nathan went on to add, "That song she's got with Jax Jones as well [You Don't Know Me], that's the catchiest thing I've heard in the longest time."
Over the weekend, the 5AM guys joined forces with UNILAD for a series of Facebook Live videos and in the final one they headed to our studios in London to meet fans and put on a dance performance to their brand new track 'Up In Here'. Check out the video below...
5 After Midnight will be performing at the #CapitalSTB on 10th June at Wembley Stadium - your only way in to the show is to win, so make sure you keep it Capital for your chance to get your hands on the hottest tickets in town!
You may also like...