Years & Years - 'Shine' (Live At The Jingle Bell Ball 2016)
4 December 2016, 20:32 | Updated: 4 December 2016, 20:34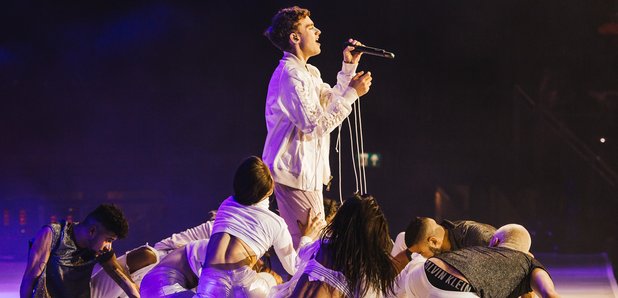 Years & Years have been the soundtrack to the summer for the last two years and this #CapitalJBB performance showed just why!
As soon as this three piece stepped onto the stage at the Capital Jingle Bell Ball with Coca Cola, there was something special in the air – they were here to put on a show stopping set and the crowd were more than ready for it.
They've got some of the most recognizable hits around and their sound is so unique to them, making them one of the most exciting acts to take to the stage at London's O2 Arena at the #CapitalJBB.
Whilst they've got the tunes, they can also back it up with the moves and lead singer Olly Alexander certainly knows how to get the party going after some of those amazing shapes he was throwing – go on Olly!
You can relive their amazing #CapitalJBB set by clicking play on the video below – their one of the best British acts to emerge in recent years!
As well as 'Shine', Years & Years performed a number of their other huge hits, showing just why we all love them!
Years & Years – Jingle Bell Ball 2016 Setlist
'Desire'
'King'
'Eyes Shut'
'Shine'
Years & Years 'Shine' Lyrics
I remember us alone
Waiting for the light to go
Don't you feel that hunger
I've got, so many secrets to show
When I saw you on that stage
I shiver with the look you gave
Don't you hear that rhythm, can you
Show me how we can escape
I was biting my tongue
I was trying to hide
(Ooh oh oh oh, ooh oh oh ooh)
I'll forget what I've done
I'll be redefined
It's shaking the sky
And I'm following lightning
I'll recover if you keep me alive
Don't leave me behind
Can you see me I'm shining
And it's you that I've been waiting to find
I'm holding it all tonight
I'm folding it all tonight
You know that you make it shine
And it's you that I've been waiting to find
I'm holding it all tonight
I'm folding it all tonight
You know that you make it shine
It's you that I've been waiting to find
Now that we can hear that sound
Now that you can hold me down
You can pull me under
You can raise everything to the ground
Everything I can arrange,
Every part of me you change
Just hold me together, tell me
You'll always want me to stay
I was biting my tongue
I was trying to hide
(Ooh oh oh oh, oh oh oh ooh)
I'll forget what I've done
I'll be redefined
It's shaking the sky
And I'm following lightning
I'll recover if you keep me alive
Don't leave me behind
Can you see me I'm shining
And it's you that I've been waiting to find
I wanna be the one you steal
I wanna be the one you shield
I wanna be the one
That your love, that your love
Can heal
I wanna be the one you steal
I wanna be the one you shield
I wanna be the one
That you'll love, that you'll love
It's shaking the sky
And I'm following lightning
I'll recover if you keep me alive
Don't leave me behind
Can you see me I'm shining
And it's you that I've been waiting to find
I'm holding it all tonight
I'm folding it all tonight
You know that you make it shine
It's you that I've be waiting to find
I'm holding it all tonight
I'm folding it all tonight
You know that you make it shine
It's you that I've be waiting to find
It's you that I've be waiting to find
It's you that I've been waiting to find