Years & Years - 'Desire' (Live At The Jingle Bell Ball 2016)
4 December 2016, 19:46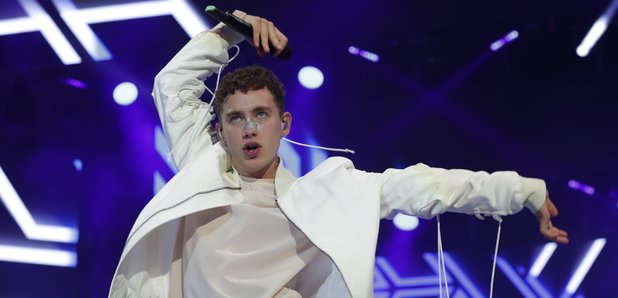 These guys have been impressing audiences across the world for ages now and their #CapitalJBB was simply magical!
From the off, Years & Years had the crowd in the palm of their hands at Capital's Jingle Bell Ball with Coca Cola and they made sure they got the party going right from the start.
Having played on festival stages across the globe, they seemed right at home on London's iconic O2 Arena stage and with standout front man Olly Alexander wearing a trademark statement outfit, they were here to smash it.
The band's debut album 'Communion' really put them on the map back in 2015 and this set showcased exactly why they're so adored by their fans, and everyone in attendance absolutely loved their lively set!
You can relive their amazing #CapitalJBB set by clicking play on the video below – Years & Years performing their hits on a massive stage – yes please!
As well as 'Desire', Years & Years performed a number of their other huge hits, proving that they know just how to get a party going.
Years & Years – Jingle Bell Ball 2016 Setlist
'Shine'
'Desire
'Eyes Shut'
'King'
Years & Years 'Desire' Lyrics
I must be tough
I must behave, I must keep fighting
Don't give it up
I want to keep us compromising
Open your arms and pray
To the truth that you're denying
Give in to the game
To the sense that you've been hiding
Where are you taking me?
I can't be blamed
I want you to want me again
Is it desire
Or is it love that I'm feeling for you
I want desire
'Cause your love only gets me abused
Give me that rush
I want to show you what you've been missing
Am I enough
To keep your other lovers hidden
Where are you taking me?
I can't be blamed
I want you to want me again
Is it desire
Or is it love that I'm feeling for you
I want desire
'Cause your love only gets me abused
Is it desire (is it desire)
Or is it love that I'm feeling for you
I want desire
I wanna see what you're willing to lose
You know that you've got me
You've locked me down
You tell me you want me
You need it now
You know that you've got me
You've locked me down
You tell me you want me now
Is it desire? (Is it desire)
Or is it love that I'm feeling for you
I want desire (I want desire)
'Cause your love only gets me abused
Is it desire? (Is it desire)
Or is it love that I'm feeling for you? (That I'm feeling for you)
I want desire
I wanna see what you're willing to lose (ooh what you're willing to lose)