Years & Years - 'Eyes Shut' (Live At The Jingle Bell Ball 2016)
4 December 2016, 20:16 | Updated: 4 December 2016, 20:21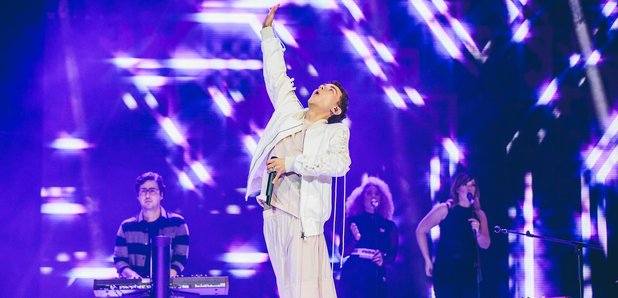 Powerful, emotional, incredible – Years & Years we're everything we'd ever want from a band at the #CapitalJBB!
They're not known as one of the best live bands around for nothing and they showed us exactly why on stage at the Capital Jingle Bell Ball with Coca Cola.
Performing hit after hit and dressed in some of our favourite outfits of any act at the #CapitalJBB, these guys really know how to put on a show and created an amazing atmosphere with the power of their music.
Years & Years' debut album was a sensation and this tune was one of the most emotive on there – full of feels, we'd say this live performance may even be better than the recorded version!
You can relive their amazing #CapitalJBB set by clicking play on the video below – the band were simply stunning from start to finish!
As well as 'Eyes Shut', Years & Years performed a number of their other huge hits, exhibiting just why their one of Britain's most loved bands
Years & Years – Jingle Bell Ball 2016 Setlist
'Shine'
'Desire
'Eyes Shut'
'King'
Years & Years 'Eyes Shut' Lyrics
Throw your heart to me
Let it fall and hit the ground
Let it go
Your timing was so wrong
And I just want to be found
And oh
And I
Yeah, I've got the lines, I've got the lines
Oh it's brighter this time
This type of mine this disguise
Oh you talk, oh, to me
Well, nothing's gonna hurt me with my eyes shut
I can see through them
I can see through them
I am drawing pictures I'm evading
I will not use them
I will not use them
Again
And it starts again
You come over with your friends
I don't wanna talk to them
And all I really want
Is to start again
And oh
And I
Yeah, I've got the lines I've got the lines
Oh it's brighter this time
This type of mine
This disguise
Oh you talk, ooh, to me
Well, nothing's gonna hurt me with my eyes shut
I can see through them
I can see through them
I am drawing pictures I'm evading
I will not use them
I will not use them
'Cause I wanna be bigger than life
For you
For you
'Cause I wanna be bigger than life
For you
For you
And nothing's gonna hurt me with my eyes shut
I can see through them
I can see through them
And I am drawing pictures I'm evading
I will not use them
I will not use them
No, nothing's gonna hurt me with my eyes shut
I can see through them
I can see through them