Everything You MUST Know About Ed Sheeran's 'Divide' Album: Release Date & Track Listing
12 January 2017, 11:13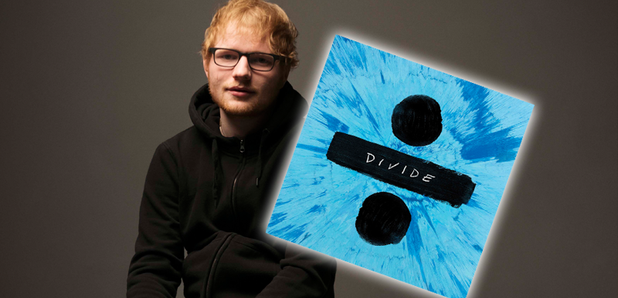 We've been waiting a long time for this (a year and a bit to be precise) but Ed Sheeran's return to music is here!
It feels like an eternity since Ed Sheeran released 'x' and we'll be honest, we've been checking our calendar pretty much every day since he went on his hiatus in preparation for the day that Ed finally returned. Well, his new album '÷' is here and the release date is 3rd March 2017! You can pre-order the album here.
Upon reflecting on his first few days back in the spotlight, Ed commented, "First off, what a week! The reaction to my new singles has been absolutely mind-blowing and I can't thank you enough. My new album ÷ holds a very special place in my heart and I really believe this is my best work to date. I've been eager to get back and I couldn't be more excited for March 3rd."
Ed has also teased us with the official track listing, look at all those titles...we can only begin to imagine what they sound like!
January 11, 2017
Ed Sheeran - '÷' track list:
Eraser
Castle On The Hill
Dive
Shape Of You
Perfect
Galway Girl
Happier
Hearts Don't Break Around here
New Man
What Do I Know?
How Would You Feel (paean)
Supermarket Flowers
The first new songs from 'Divide' dropped at 5am on the 6th January along with some sweet lyric videos and we can't get enough of them!
'Shape Of You'
Ed Sheeran - 'Shape Of You'
Official Lyric Video
03:55
It only took a few days for Ed's 'Shape Of You' to be downloaded enough to top the Vodafone Big Top 40, with his second release 'Castle On The Hill' bagging the No.2 spot too!
Congratulations @edsheeran! 'Shape Of You' is the NEW No.1 single in the UK, what a tune #EdOnBT40 https://t.co/KVIlc8QwZZ pic.twitter.com/7NM4VUtDEX

— Vodafone Big Top 40 (@BigTop40) January 8, 2017
'Castle On The Hill'
Ed Sheeran - 'Castle On The Hill'
Official Music Video
04:20
Ed also spoke to Capital's Will & Aimee about the meaning behind one of his incredible new tracks - and you'll seriously fall in love with him even more!
Ed Sheeran Confirms New Track Titles And Has A Special Announcement!
Ed Sheeran confirms his brand new track with Will and Aimee, and lets us know when we'll be seeing him next!
02:08
RELATED: His Album's Not Even Here - But We're Ready Ready For Ed Sheeran's 2017 UK Tour!
Original Article Follows
Cast your minds back to the very end of 2015 and you'll remember Ed Sheeran posting a message to his legions of fans promising he'll be back in a year with a third album. Not only that, the acoustic maestro claimed it was the 'best thing' he has made thus far.
Well, it is January 2017 and it looks like we're finally going to get some new Ed tunes!
Rumblings of Ed's comeback started to begin on 13th December 2016 after exactly ONE year, when he posted this image of a light blue square without a caption on his social media channels:
December 13, 2016
At this point we wondered what the hell it was all about?! We've seen a lot of celebrities change their profile pictures to plain colours but when it comes to Ed, there just had to be a reason for it right?
And then came the X Factor. It might not be music for his own album, but Ed Sheeran joined forces with the UK's biggest TV show to write the winner's single! 'When Christmas Comes Around' turned out to be Matt Terry's first single and it of course rocketed into the the Vodafone Big Top 40 top 10!
We'd like to think that somewhere in the depths of Ed Sheeran's recording studio there is a demo of the man himself singing the Christmas anthem.
Then 2017 arrived and Ed dropped this ten second video on New Year's Day...:"Hello 2017" YAAAASSSSS
Hello 2017... pic.twitter.com/1UyjpgoFbo

— Ed Sheeran (@edsheeran) January 1, 2017
In the video, Ed confirms that new music is due on Friday 6th January 2017. Of course, the #Sheerios came out in full force after the announcement!
@edsheeran YOU SAVED 2017

— janet (@titaniclarrie) January 1, 2017
@edsheeran Omg I can't breathe

— Devin Dressman (@devin_dressman) January 1, 2017
@edsheeran pic.twitter.com/bdWtJuOt4E

— ☼ (@isthisinmyhead) January 1, 2017
PIC: Ed Sheeran/Twitter
Now ALL we needed was just a little bit more information and we'd be happy to wait until the first Friday of 2017 and of course the KING gave us just that...
We think it is pretty safe to say that Ed's third studio album is going to be called '÷' or 'Divide' (seeing as his first two were '+' and 'x' and that also explains the light blue square posted back on the 13th December.
Add to that, Mr.Sheeran posted a random sentence along with a video the day after the New Year's bank holiday! We can only assume 'When I was six years old, I broke my leg' is a lyric right?!
When I was six years old I broke my leg... pic.twitter.com/IDIoHf5h8b

— Ed Sheeran (@edsheeran) January 3, 2017
So, now...we...wait...
You may also like...
Justin Bieber On Working With Ed Sheeran
Justin Bieber lets slip what it was like to work with Ed Sheeran on his new album.
00:47
Trending On Capital FM
Comments