Rudimental Can't Wait To Meet Bruno Mars And Katy Perry At BRIT Awards 2014 - Audio
19 February 2014, 13:03 | Updated: 19 February 2014, 13:04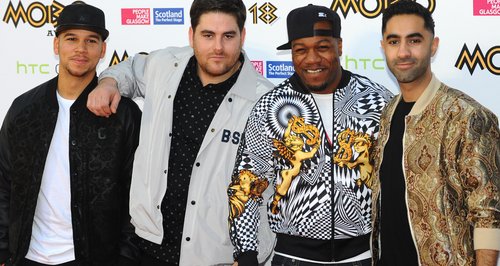 The 'Waiting All Night' stars have also told Capital that they are looking forward to seeing Pharrell tonight.
Rudimental say fans can expect a "massive Rudimental vibe" when they perform live at the BRIT Awards 2014 tonight (19th February), as well as revealing which stars they want to bump into backstage.
Rudimental want to meet Bruno and kiss Katy Perry at the BRITs 2014
The 'Feel The Love' four-piece say they would "love" to meet Bruno at the O2 Arena in London later today, as well as joking about wanting a kiss from fellow BRITs performer Katy Perry.
"Very very nervous, my knees are trembling," Rudimental revealed on Capital Breakfast earlier today. "You just can expect a massive Rudimental vibe on stage.
"The whole family is here, not literally, but the Rudimental family is here."
When asked which stars they are looking forward to seeing, the 'Waiting All Night' band named Bruno Mars, Pharrell Williams and Katy Perry as their top picks.
"Bruno Mars, he's a cool guy would love to meet him. Pharrell would be wicked, we're all massive fans of him. And hopefully I'll kiss Katy Perry later!"
Rudimental are up for three gongs at the BRITs 2014 this evening, where they are also set to perform live.
Keep it Capital all evening as we bring you exclusive coverage of the BRIT Awards 2014, including all the winners and performers of the night.