COVID-19: Do Flight Prices Show Flying Won't Be As Expensive As Everyone Feared?
23 June 2020, 13:07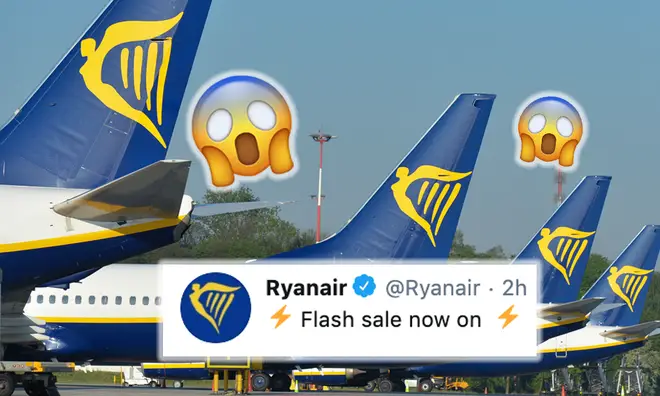 Flight companies are starting to advertise flights again- and contrary to what many people feared, prices don't seem to have shot up.
Ryanair has launched a flash sale for summer holiday flights that can take you on holiday to Spain for under a tenner, causing relief for many who feared flight prices would soar post-lockdown, but worry amongst others about a second spike of Coronavirus.
Why You Might Be Feeling Post-Lockdown Anxiety And How To Manage It
Pubs, Restaurants, Hotels & Hairdressers can reopen from 4th July
Ryanair has launched a flash summer holiday flight sale with seats from as little as £8.99, with a one way ticket to Lanzarote costing as little as £9.99, Milan for £8.99 one-way and Ibiza for £14.99 one-way.
However, the sale will end at midnight on Wednesday and is for travel between July 1 and July 31 2020- so you will be flying during a high risk period and expected to stick to social distancing measures.
The airline has come under fire as they've said their trolley system, selling food and drink, will be in operation on its flights, despite the Department for Transport saying that limiting the trolley services will help reduce transmission of Covid-19 by limiting staff and passenger interaction.
PM Boris Johnson has announced pubs, restaurants, hotels and hairdressers can open from 4th July, which has some asking why these can open but flying is not recommended?
Many concerned with the environment, however, were looking forward to welcoming a change to the fast-paced and constant flying that had become the norm before the pandemic shut everything down.
Environmentalists are also worried once lockdown restrictions lift, frequent flying will reinstate once more, and this latest flash sale from the airline shows flight companies are eager to resume things as soon as possible.
So, if you're willing to take your hols this July and look forward to some seriously distanced airport antics, then you could be in for a steal- if not, hold tight!
> Download Our App For All The Latest Music News