What's This About Ed Sheeran's "Rude" Freestyle Rap Lyrics?
22 September 2014, 10:57 | Updated: 22 September 2014, 13:27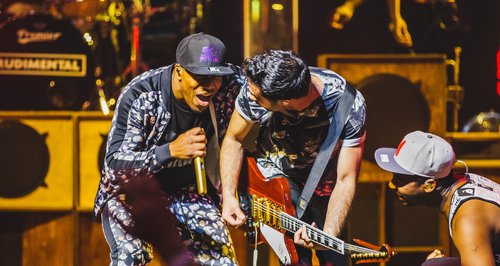 Rudimental ALSO tease us about when that Ed Sheeran team-up will arrive.
Rudimental say Ed Sheeran has some SERIOUS freestyle rapping skills… but that some of his lyrics are even too rude for them!
The boys revealed ALL to Max backstage at iTunes Festival 2014 at the weekend, and also gave an all-important update about when their team-up with the 'Sing' star will finally arrive.
Rudimental tease Ed Sheeran's rapping skills...
"It's been an amazing experience, especially supporting Ed.," Rudimental told Max, while chatting about supporting Ed in North America this month. "He's been amazing out there.
He's been jumping on some of our DJ sets. He's rapping!" the boys excitingly revealed."So, after every live show, we've got a DJ set and he's been jumping on and he's been hitting us up with Dr. Dre lyrics, grime lyrics.
He's amazing at rapping. He's a sick rapper. He's well known for it. He's good at free styling . It's one of his strengths," the 'Waiting All Night' stars added. "He came out to a few of our DJ sets and some of his lyrics are quite dirty, I should say."
Max then pressed the boys for some fresh news about the long-awaited team-up between Rudimental and Ed, and when fans might FINALLY get to hear it.
"We haven't done a rap record with him [but] we've done a song with him," they added. "I guess you've got to get things right and we've perfectionists.
"We just want to make sure it's right and obviously we're finished the album as well, so it's about getting the whole thing in place."
Keep it Capital every Monday to Thursday from 10pm and Sundays from 7pm for Max's show.
You May Also Like...