Jax Jones & Raye - 'You Don't Know Me' (Live At The Summertime Ball 2017)
13 June 2017, 17:16 | Updated: 26 April 2018, 14:10
Jax Jones & Raye turned the #CapitalSTB into the biggest dancefloor in London whilst performing the catchiest song of the year 'You Don't Know Me'.
It's been a stunning 12 months for Jax Jones & Raye with both artists seeing huge success with their respective releases, however it's their infectious collaboration that has won them the most fans this year.
'You Don't Know Me' is one of those songs that you just can't help but sing all day long! The song stayed in the top 10 of the Vodafone Big Top 40 for weeks and weeks, proving that fans just couldn't get enough of it!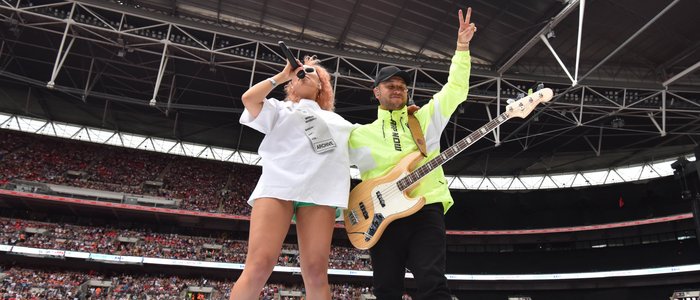 Making sure 80,000 people are partying to your song is not an easy feat, but with Raye's brilliant vocals and Jax Jones behind the decks, how could anyone not dance all their cares away? A debut performance at the #CapitalSTB isn't easy, but these two made it look like light work.
Miss out on attending the #CapitalSTB this year? We've got your back. Catch up with Jax Jones & Raye's lively performance by watching the video above. Good luck not starting a party wherever you're watching it!
Jax Jones & Raye – Summertime Ball 2017 Setlist
You Don't Know Me
Jax Jones & Raye 'You Don't Know Me' Lyrics
Ooh, na na ay
Don't act like you know me, like you know me, na na ay
I am not your homie, not your, hoo, na na ay
Don't act like you know me, like you know me, na na ay
You don't know me

Oh yeah, time is money so don't fuck with mine
See I'm out with my girls, I'm a have a good time
Step back with your chit-chat, killin' my vibe

See, I can't get too much of a good thing
S'why me a dressed up in the finest things
Well, please hold your tongue, oh, don't say a damn thing

Mmmmmmmm
See your iPhone camera flashin'
Please step back, it's my style you're crampin'
"You here for long?" Oh no, I'm just passin'
"Do you wanna drink?" No, thanks for askin'

Ooh, na na ay
Don't act like you know me, like you know me, na na ay
I am not your homie, not your, hoo, na na ay
Don't act like you know me, like you know me, na na ay
You don't know me, f*** yeah
Ooh, na na ay
Don't act like you know me, like you know me, na na ay
I am not your homie, not your, hoo, na na ay
Don't act like you know me, like you know me, na na ay
You don't know me, f*** yeah

I mean, we could throw shapes together
But it doesn't mean you're in my circle, yeah
Cruise through life and I'm feelin' on track
If you can't keep up, then you better fall back
'Cause money look better when I see it all stacked up

See, I can't get too much of a good thing
S'why me a dressed up in the finest things
Well, please hold your tongue, oh, don't say a damn thing

Mmmmmmmm
See your iPhone camera flashin'
Please step back, it's my style you're crampin'
"You here for long?" Oh no, I'm just passin'
"Do you wanna drink?" No, thanks for askin'

Ooh, na na ay
Don't act like you know me, like you know me, na na ay
I am not your homie, not your, hoo, na na ay
Don't act like you know me, like you know me, na na ay
You don't know me, f*** yeah
Ooh, na na ay
Don't act like you know me, like you know me, na na ay
I am not your homie, not your, hoo, na na ay
Don't act like you know me, like you know me, na na ay
You don't know me, f*** yeah

Do it just slow down
Won't get what you want, what you want, what you want, want
Tell you what you don't know
I get what I want, what I want, what I want, want

Mmmmmmmm
See your iPhone camera flashin'
Please step back, it's my style you're crampin'
"You here for long?" Oh no, I'm just passin'
"Do you wanna drink?" No, thanks for askin'

Ooh, na na ay
Don't act like you know me, like you know me, na na ay
I am not your homie, not your, hoo, na na ay
Don't act like you know me, like you know me, na na ay
You don't know me, f*** yeah

You don't know me, f*** yeah