Rita Ora – 'Anywhere' (Live At The Jingle Bell Ball 2018)
9 December 2018, 16:41 | Updated: 9 December 2018, 16:44
There's nowhere you'd rather have been than in the O2 watching Rita Ora perform this absolute tune!
Tonight marked Rita Ora's third Jingle Bell Ball, and she pulled out all the stops to make sure it was a night to remember.
Capital's Jingle Bell Ball 2018: How To Watch, Listen & Stream
She performed an incredible six-song set, delighting the 16,000-strong crowd with a host of her biggest hits.
'Anywhere' was a high-energy crowd favourite, and you can re-watch this world-class performance with the video above.
Rita Ora– Jingle Bell Ball 2018 Set List
'Lonely Together'
'Your Song'
'I Will Never Let You Down'
'Black Widow'
'Anywhere'
'Let You Love Me'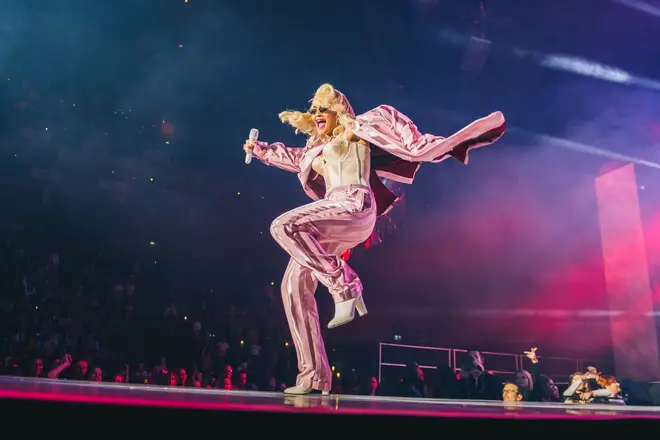 Rita Ora – 'Anywhere' Lyrics
Time flies by when the night is young
Daylight shines on an undisclosed location, location
Bloodshot eyes lookin' for the sun
Paradise delivered and we call it a vacation, vacation
You're painting me a dream that I
Wanna belong, yeah, wanna belong, yeah
Over the hills and far away
A million miles from L.A
Just anywhere away with you
I know we've got to get away
Someplace where no one knows our name
We'll find the start to something new
Just take me anywhere, take me anywhere
Anywhere away with you
Just take me anywhere, take me anywhere
Anywhere away with you
Fun, little less fun
Little less, over, over, over, over, me
Oh, fun, little less fun
Little less, over, over, over, over, me
Truth comes out when we're blacking out
Looking for connection in a crowd of empty faces, empty faces
Your secrets are the only thing I'm craving now
The good, and the bad, and the end
'Cause I can take it, I can take it
You're painting me a dream that I
Wouldn't belong in, wouldn't belong in
Over the hills and far away
A million miles from L.A
Just anywhere away with you
I know we've got to get away
Someplace where no one knows our name
We'll find the start of something new
Just take me anywhere, take me anywhere
Anywhere away with youFun, little less fun
Little less, over, over, over, over, me
Oh, fun, little less fun
Little less, over, over, over, over, me
Take me anywhere
Oh, anywhere
Anywhere away with you
Take me anywhere
Over the hills and far away
A million miles from L.A
Just anywhere away with you
I know we've got to get away
Someplace where no one knows our name
We'll find the start of something new
Just take me anywhere, take me anywhere
Anywhere away with you
Just take me anywhere, take me anywhere
Anywhere away with you
Fun, little less fun
Little less, over, over, over, over, me
Anywhere away with you
Oh
> Download Our App For The Latest #CapitalJBB News