Olly Murs – 'Dance With Me Tonight' (Live At The Jingle Bell Ball 2018)
8 December 2018, 21:42
He asked, and all 16,000 of you answered with a resounding 'yes'!
If there's one thing Olly Murs is famous for (apart from his amazing voice, obvs) it's definitely his dance moves – so it's no wonder you guys obliged when he invited you to 'Dance With Me Tonight'!
Capital's Jingle Bell Ball 2018: How To Watch, Listen & Stream
The cheeky Essex chap had the whole of London's O2 ready to party as he took to the stage – there's a reason he's one of the UK's best performers!
You can watch this epic Jingle Bell Ball moment as many times as you like by clicking play on the video above.
Olly Murs – Jingle Bell Ball 2018 Set List
'Moves'
'Troublemaker'
'Dear Darlin''
'Dance With Me Tonight'
'Wrapped Up'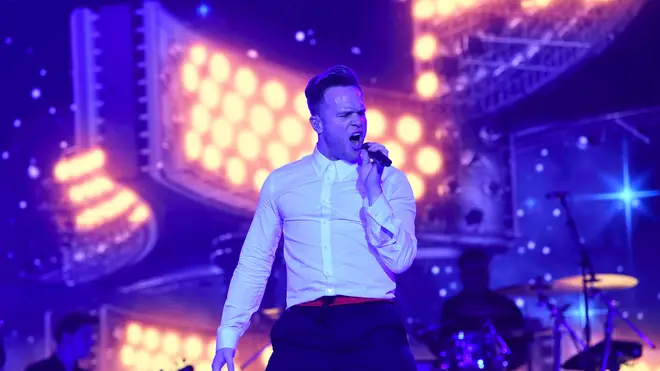 Olly Murs – 'Dance With Me Tonight' Lyrics
Ladies and gentlemen, we've got a special treat for tonight
I'm gonna call my friend Olly up here to sing to you ladies
Olly!
Yeah!
Let's go, man
Okay
My name is Olly, nice to meet you can I tell you, baby
Look around there's a whole lot of pretty ladies
But not like you, you shine so bright, yeah
I was wondering if you and me could spend a minute
On the floor up and close getting lost in it
I won't give up without a fightI just wanna, oh baby
I just want you to dance with me tonight
So come on, oh baby
I just want you to dance with me tonight
We're getting sweaty, hot and heavy in the crowd now
Loosen up and let you hands go down, down
Go with it girl, yeah just close your eyes, yeah
I feel the music moving through your body
Looking at you I can tell you want me
Don't stop keep moving till the morning light, yeah
When I saw you there
Sitting all alone in the dark
Acting like you didn't have a care
I knew right then, you'd be mine
We'd be dancing the whole damn night, like
Oh baby, I just want you to dance with me tonight
So come on, oh baby
I just want you to dance with me tonight
Break it down now (yeah, yeah, yeah, yeah, yeah)
Shake it like that (yeah, yeah, yeah, yeah, yeah)
Now bring it all back
To dance with me tonight
One more time, one more time, come on now
(Yeah, yeah, yeah, yeah, yeah)
Do your thing (yeah, yeah, yeah, yeah, yeah)
Everybody sing
I just want you to dance with me tonight (come on)
I just wanna, oh baby
I just want you to dance with me tonight
Everybody, everybody, come on now
Pretty girl, just close your eyes
We can dance all through the night
I just want you to dance with me tonight
And everybody sing
Pretty girl, just close your eyes
We can dance all through the night
I just want you to dance with me tonight
So come on
Pretty girl, just close your eyes
We can dance all through the night
I just want you to dance with me tonight
> Download Our App For The Latest #CapitalJBB News