Game Of Thrones Season 8: What We Know So Far Incl. Release Date, Cast & Trailer
9 May 2018, 14:47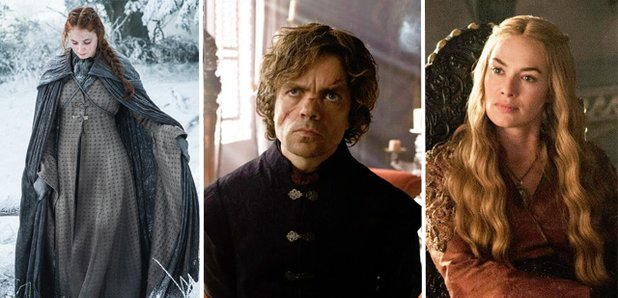 It's true... 'Game Of Thrones' will finally return for its eighth and final season in 2019! With the seventh season leaving us with on all kinds of cliffhangers, we are literally salivating at the thought of the next season!
Psst, there are spoilers from season 7 of 'Game Of Thrones' in this article so if you haven't watched it yet (why are you here?!) you better stop reading right now.
> Game Of Thrones Might Be Getting A Spin-Off Show And We Could Not Be More Excited

GIF: Giphy
Here's what we know about the eighth and (SOB) final season of Game Of Thrones:
Which characters are going to be in season eight of Game of Thrones?
Well, we definitely know who won't be in the new season and that's Littlefinger aka Petyr Baelish, who met his grisly end in season 7. Others we'll be missing are of course Benjen Stark, Olenna Tyrell and the Sand Snakes.
Although there has been no official confirmation of who will make their return, it is pretty nailed on that we'll be seeing the regular crew of Jon Snow, Daenarys, Jaime, Cersei etc.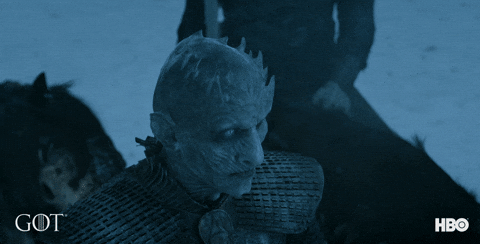 GIF: Giphy
When will season eight of Game of Thrones air?
Maisie Williams, a.k.a Arya Stark accidentally revealed to Metro, "We wrap in December and we air our first episode in April [2019]" Adding, "That's a four-month turnaround for these huge episodes. There's a lot that goes into the final edit. You would not want to rush this season at all."
Earlier speculation was squashed by HBO's official PR Twitter when their Twitter account revealed in early 2018 that the show will return in 2019 with a shorter SIX episode season where it'll tie the story to a definitive close once and for all.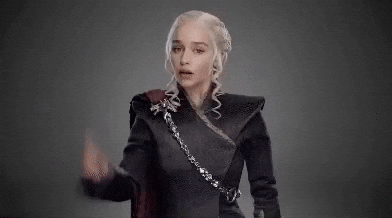 GIF: Giphy
How many episodes will be in season eight of Game of Thrones?
We've enjoyed our fair share of epic action from Westeros - 67 episodes to be exact. But whilst season 1-6 were all 10 episodes long, season 7 was only 7 episodes in length...how did we even cope with that?
Well there's more bad news because season eight is reportedly on six episodes long - yes you read that right, 6!
The episodes are set to be longer though and Liam Cunningham, who plays Ser Davos, told TV Guide, "[The episodes are] definitely going to be bigger and what I hear is longer. We're filming right up until the summer."
"When you think about it, up until last season we'd have six months to do ten episodes, so we're [doing] way more than that for six episodes. So that obviously will translate into longer episodes."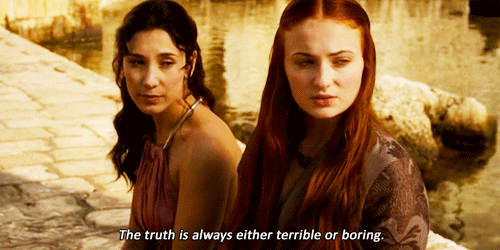 GIF: Giphy
How can I watch season eight of Game of Thrones?
As far as we're aware, you'll be able to watch it the same way as all the other seasons - on Sky Atlantic. Unless you're a naughty streamer... naughty!

GIF: Giphy
The season eight Game of Thrones trailer
We know that filming has already taken place at Titanic studios in Belfast at the tail-end of 2017 and in 2018... so maybe they'll gather enough footage soon to give us a little teaser!?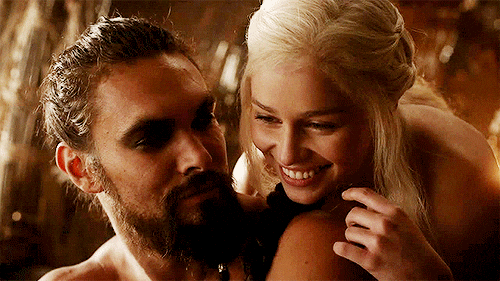 GIF: Giphy
Who will die in season eight of 'Game of Thrones'?
Let's face it, the true question is surely who will survive until the end of season eight of 'Game Of Thrones'.
HBO's SVP of drama, Francesca Orzi recently revealed details of the cast's first read through of the final scripts and it sounds like a seriously powerful occasion.
Speaking at the INTV conference, she revealed, "It was a really powerful moment in our lives and our careers. None of the cast had received the scripts prior, and one by one they started falling down to their deaths."
"It was amazing. By the very end, everyone looked down and looked up and tears were in their eyes."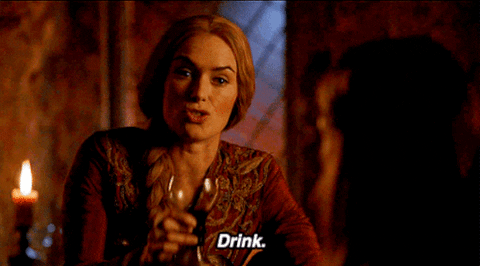 GIF: Giphy
Nathalie Emmanuel who plays Daenerys sidekick Missandei hinted that her character could be one of the ones to die in the new series.
Speaking to the Express, Nathalie explained, "I have had some periods out of work because of schedules and they're shooting stuff I'm not in.But I've done quite a bit already and it's been going really well. It's really exciting! I can't say much but it's going well and as far as I know everyone's saying it's going well so that's good."
Who will end up on the Iron Throne in season eight of 'Game Of Thrones'?
Given the fact that most of the characters we grow to love (and half of those we despise *cough Joffrey* have been killed off over the past 7 seasons, we've tried not to get our hopes up about who will end up on the throne.
BUT, there are a few people we think could end up as the ultimate hero of GoT. We're thinking Bran Stark, as he's an all-seeing/all knowing ledge after all, or maybe Jon Snow & Daenerys Targaryen in a cheesy loved up ending?
Commenting on the finale of season eight, Daenerys actress Emilia Clarke told the Herald Sun, "People will scream and people will say, 'That's exactly what I wanted,' and some people will go, 'Huh?' - my mum probably."
One thing's for sure, it won't be Ed Sheeran's character...surely!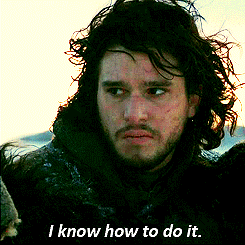 GIF: Giphy
> Download Our App To Keep Updated On Everything From The World Of Westeros!
Whilst you're here, did you spot the Harry Potter reference in season seven Game of Thrones?