#CapitalLMF: Live Blog - Friday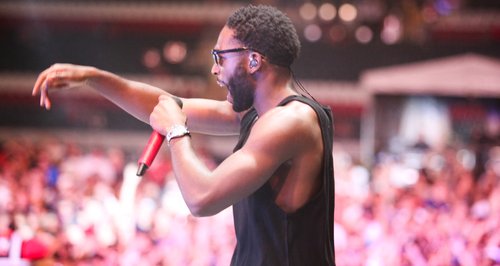 Get all the action from the acts on stage, backstage and behind the scenes right here.
The Leicester Music Festival brings a whole load of your favourite artists to the home of the Leicester Tigers, Welford Road Stadium on Friday 25th and Saturday 26th July.
Find out what happened as the artists took to the stage on Friday 25th July, see backstage interviews as well as going behind the scenes with Dino & Pete.
Who did you love seeing the most?
---
22.25 - Ooh look, we all love a ticker tape cannon to end an amazing set and day packed full of some of the best Capital music

22.15 - We've changed the words to Leicester To Ibiza, who needs Miami anyway, everyone is jumping around like a loon as Top Model echoes out before Drinking From The Bottle then Tsunami, are your calf muscles aching yet with all the bouncing about?
Get a load of @TinieTempah at @LeicesterMF! @ClaireChambers certainly seems to be enjoying it... #CapitalLMF #LMF
— Tom and Claire (@tomandclaire) July 25, 2014
22.10 - RIP and Crazy Stupid Love ring out before he thanks everyone for downloading the Cheryl tune and making it Number One on the iTunes chart. Pass Out, hopefully no one did in all the heat earlier.
22.00 - The stage lights go up as Tinie asks to have a selfie taken with everyone for his Instagram, make sure you head there and tag yourself @tiniegram
22.00 - Brrrrrap's, Brrrrrraps all round during Written In The Stars after Tinie tells us this one is very emotional for him. The crowd sings the chorus word perfect and in time to a greatful arm waving chap on stage!
21:50 - Earthquake!! No Labrinth with him for this one, that's certainly on the cards for tomorrow night - do you have tickets yet? Where else would you go after Eathquake than Trampoline which happened seamlessly, ooh hello Children Of The Sun, sing it out Leicester!
21:45 - Lover Not A Fighter starts as everyone rushes to the front of the stage for a better look of Tinie in his vest and shorts. Next up is Frisky and just as Til I'm Gone begins he tells everyone to make some noise.
21.30 - Tinie Tempah - The headline act everyone has been waiting to see jumps on stage just as the sun goes down.
See Tinie Tempah's backstage interview

---
@professorgreen WAS BY FAR THE BEST ACT AT #LMF INCREDIBLE!!!! pic.twitter.com/GNfdWMxSK1

— hann (@prohannxx) July 25, 2014
20.38
Monster is next quickly followed by Avalon and finally Read All About It, thanks Professor Green - you've been amazing!
20.25
Not Your Man, Remedy, Little Secrets and Jungle were belted out one after the other before he says people might think he's started singing ballards now he's been married - then launches into Lullaby.
20.20
Professor Green tells us he loves being back in Leicester and wanted to know if everyone was still alive, by the screams coming from the crowd they very much definitely are!
20.00 - Professor Green
He takes to the stage and begins his set with I Need Church followed by Oh My God, I Need You Tonight and Just Be Good To Green.

See Professor Green's backstage interview
---
Selfie time for Dino and Pete.
17:40
The lads explode onto the stage with style!
17:00 - Diversity
---
Sounds like @KatyB got the @LeicesterMF ground jumping! Can't wait to get down to see @professorgreen + @TinieTempah later! #CapitalLMF #LMF

— Tom Watts (@TomWatts_) July 25, 2014
#LMF #CapitalLMF enjoying the sunshine and songs :-) happy days

— Kirsty Jade Bourne (@kirstyjbourne) July 25, 2014
17:07
An energetic Katy signs off with Katy On A Mission and Lights On.
16:56
Katy takes it down a little with Crying For No Reason.
16:42
The crowd waves their arms in the air to Broken Record, immediately followed by Let Me Be Your Fantasy.
Next up, Katy belts out Easy Please Me and Aaliyah. Her backing dancers are kitted out in cute denim playsuits.
16:30
Flame haired Katy B has just taken to the stage and launched into Perfect Stranger.
16:00 - Katy
Backstage, eagerly waiting to come on.
The players' changing rooms have been transformed into artists' dressing rooms @LeicesterMF #LMF pic.twitter.com/YxBtiSoRMe

— Leicester Tigers (@LeicesterTigers) July 25, 2014