From Beyoncé Collabs To Leaked Tracks: Here's What You Need To Know About Calvin Harris' Upcoming Album
7 March 2017, 12:08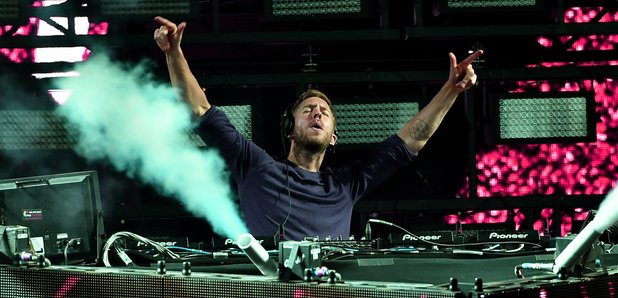 We're expecting BIG things from Calvin Harris' fifth studio album. Obviously.
Be right back. We're just gonna spend the next day listening to 'I Created Disco', followed by 'Ready for the Weekend', then '18 Months', and finally 'Motion'. As you may have guessed, we're in a bit of a Calvin Harris mood right now.
Why wouldn't we be, following all of the rumours and speculation following the Scottish DJ's upcoming studio album. So here's everything we know about the album... So far:
When is the album going to be released?
Last year, Calvin kept us all waiting with baited breath, having dropped the likes of 'My Way' and 'Olé', and he has since gone on to say that in 2017, he's going to release a further ten new tracks. Ten more tunes? Well, it seems unlikely that he'd just drop ten singles this year - that sounds like a whole album's worth, if you ask us.
@CalvinHarris any new upcoming tracks this year?

— Khant Thu (@khantthu27) January 23, 2017
January 23, 2017
So while there's no official release date for the album as of yet, it seems likely that this is the year to expect his fifth studio album. (But then again, he did say he was totally done with making albums, after a source said he believed singles were the way forward. We'll believe it when we see it. And please don't make us see it, Calv.)
He then teased the release when a fan asked for a whole album, similar to Calvin's 'Slide', to be launched for Summer and he simply replied with some thinking emojis. That's probably just him thinking about how he's going to rule the music industry in a few months, FYI.
March 6, 2017
What will the general vibe of the album be?
There's a reason why Calvin Harris is one of the greatest EDM DJs in the world. Because he can take any feeling and turn it into a huge club banger. From his heavy beats of 'Open Wide' featuring Big Sean, to his festival feel-good anthems, like 'I'm Not Alone', Calvin's produced a lot of different vibes from his previous discography.
In 2017 I'm making music to make your soul happy !!!!

— Calvin Harris (@CalvinHarris) February 15, 2017
Calvin started 2017 with his collaboration with Frank Ocean and Migos, 'Slide' which is - undoubtedly - a song to make you feel chilled and happy. If Harris' Twitter is anything to go by, you can expect a lot more of that, after he wrote "In 2017 I'm making music to make your soul happy !!!!" (And he wouldn't lie after all of those exclamation marks, would he?)
He later posted "Not feel good music. Feel INCREDIBLE music". We're predicting the BIGGEST things for this album.
Pic: Getty
Who is going to collaborate with Calvin Harris on the album?
"I worked with the greatest artists of our generation !!! I'm in the mixing stage now. I listen back and can't believe what we created !!!!!" They're not our words, but the words of a certain 33-year old who just so happens to maybe, possibly be releasing an album, having collaborating with some of the greatest artists of our generation already. Coincidence? We think not.
Fans are led to believe that Calvin is going to release a song with Beyoncé, soon. (Give us a second while we let all of our squealing out, please.) It first came to our attention when the Queen posted a video about the Oscars, using his single 'Slide' as the background music.
After he told us to "Expect the unexpected", he reportedly liked the post Beyoncé uploaded. Harris was also supposedly eager to work with the 'Single Ladies' singer after her work with Naughty Boy on 'Runnin' (Lose It All')
.@CalvinHarris commented. pic.twitter.com/9My47coTdY

— BEYONCÉ LEGION (@Bey_Legion) March 2, 2017
What tracks should we expect on the upcoming album?
Since his last album, Motion, Calvin Harris has released several singles, including 'How Deep Is Your Love' featuring Disciples, his collaboration with Dizzee Rascal, 'Hype' and 'My Way'. None of these make appearances on any albums, so these could easily make appearances on his upcoming album, and would definitely fit with his "feel INCREDIBLE" vibe.
Calvin Harris - 'How Deep Is Your Love' (Live At Capital's Jingle Bell Ball 2016)
Calvin Harris - 'How Deep Is Your Love' (Live At Capital's Jingle Bell Ball 2016)
03:09
Since rumours of a collaboration with Beyoncé emerged, some have checked ASCAP, the American Society of Composers, Authors and Publishers, a place where songwriters, producers, etc., go to to ensure they get royalties and so on. ASCAP is also the place where the Kygo-Selena Gomez collaboration was first discovered.
Many unreleased songs have appeared with writing credits to Calvin Harris' real name, Adam Richard Wiles, including 'Things I've Done', 'When You're Drug Free', 'Manufacture & Develop', 'Do You See What I See', 'Boring Souvenir', 'Amateur Dramatics' and 'Above Suspicion Soulfulness'.
One unreleased track, 'Calling It Love' has a writing credit for Sophie Ellis-Bextor. Could this be the first confirmed collaboration on the album, or was it a song they wrote for her to release? Seriously. That's not rhetorical. We need to know, Calvin!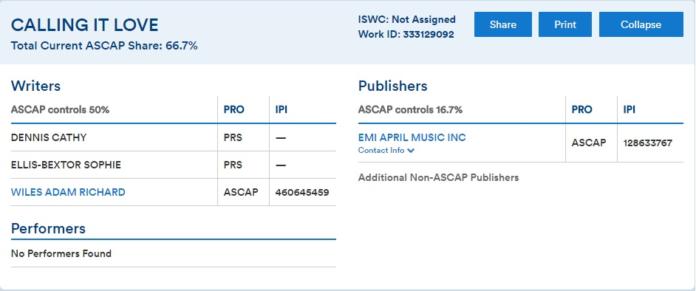 Pic: EDMSauce
You May Also Like...
Calvin Harris - 'We Found Love' (Live At Capital's Jingle Bell Ball 2016)
Calvin Harris - 'We Found Love' (Live At Capital's Jingle Bell Ball 2016)
03:25